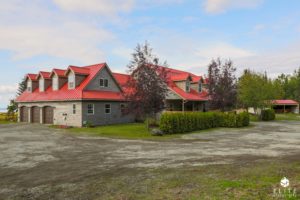 Yesterday, Paige Hodson, a local appraiser with over 38 years of experience, was the guest speaker at our sales meeting. So if you are wondering how your home is valued when it comes time for a sale, here are some helpful hints. Not all appraisers are part of the Alaska Market Data System which is a private collaboration of data from previous appraisals on the home currently being appraised. This information is particularly helpful when a home has been remodeled. Although you can not legally ask for a specific appraiser, my recommendation is to request a member of the system to appraise the home as part of the purchase and sale agreement.
According to Hodson, there is a difference between financial institutions on how they assess the need for repairs. FHA, VA and conventional loans all have a different criteria. With 75% of the MOA's housing stock over thirty years old, it is important to understand the differences. Conventional underwriters are the least stringent when it comes to deferred maintenance. Large issues like a cracked foundation or the need for a new roof will be noted. The VA's main goal is to protect the veteran buyer with the primary emphasis on health and safety. Those items will be noted in the appraisal and will need to be corrected. FHA's position when it comes to underwriting is to upgrade the local housing stock and they will be the most stringent when it comes to repairs.
Appraisers are not home inspectors. Appraisers use an 'experienced eye' according to Hodson. For example, if a roof is leaking the appraiser will note it and call for an inspection. They would also note any dangers to the heating system, such as corroded pipes, leaks or if it is sitting on the floor which poses a danger to an explosion. Appraisers also review all documents in MLS, including property disclosures, photos and as-builts.
Appraisers should never compare a ranch to a two story home or split entry. Appraisers need to keep to the same style of home. They should also only comp to the same geographical area. A 2,400 square foot two story home on the hillside has a different value than the same square footage and style in Eagle River. And I have learned to use comps that are only within a five year age difference. Hodson does count the square footage of stairwells but not all appraisers do. Stairwells are an expensive component of any home and I agree with Hodson that they should be counted as part of the square footage.
Some sales are entered into the system for stats only and may reflect a private sale between family members and a related realtor with a good discount. On any appraisal, this should be noted or discarded. And then there is the 'unique' home—one that has been more updated/remodeled than others in the area. We have a lot of 'remodeled' homes in our neighborhoods. Hodson recommends to pick and choose based on other homes in the same neighborhood with the same size. In other words, search for another home with a $35,000 remodeled kitchen.
Appraisals are ordered by a third party independent of the buyer, seller and mortgage originator. But, the more you know about the process, the more likely you are to receive an appraisal that reflects the current value of your home.''
Thank you for your referrals.