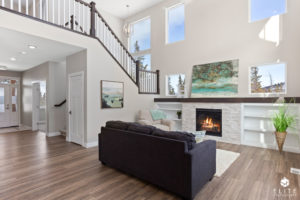 The Anchorage real estate market is off to a slow start in 2019. Active listings for Jan/Feb fell by 3.2% from the same time as last year. More importantly, closed sales declined by 15.60%. Whether that is because of continued lack of inventory or the current concern over potential job losses as a result of the Governor's proposed budget cuts is hard to determine. However, combined, those two factors have resulted in a negative 5.95% decline in the average sales price year to date of $350,968 compared to the 2018 average of $373,180.
New construction single family permits have also declined. If we thought 21 new single family permits was a slow start in 2018, this year is off to an even slower start with only 13 single family permits for Jan/Feb. Five duplexes were permitted compared to only one last year but multi-family units are only 7 compared to 36 YTD last year. Including commercial and government alterations, total new construction is down 32.43% for the first two months of this year. It is still too early to tell the impact earthquake damage will have on new construction but most of that bump up should come in commercial alterations and residential remodeling increases. It won't affect our declining single family permits dilemma as few homes have actually been slated for demolition and replacement.
But the good news for housing is the Feds have announced interest rates will remain the same for 2019 with the 30 year fixed rate mortgage now stable at 4.125. Although most buyers purchase homes because of personal changes relating to marriage, birth, death, divorce and job change, a low interest rate allows buyers to have better and more choices, assuming, of course, there is adequate inventory in the market to select from.
The lower forty-eight is continuing to experience a single family renaissance with national builders scooping up hundreds of lots in various secondary markets. Here in Anchorage, we're not so lucky. Our lot available is in the Valley. Until last weekend, it had been over a year since I had been to the Valley and the commercial and residential activity was eye opening. If you haven't been to the Valley in a while, take a spring drive up the Glenn. The traffic, commercial and retail enterprises popping up will renew your economic faith in Alaska.
The Municipality of Anchorage needs to recognize its economic competitor knocking on its backdoor and it starts with acknowledging the need for more home ownership opportunities. The solution to more Anchorage home building needs to be varied and thoughtful. More downtown multi-family units (yes, the MOA has already incentivized that with a 12 year tax abatement) but what about the fact that over 65% of buyers prefer a single family home which is why so many are willing to make that hour long drive to and from the Valley? Let's take another look at the Title 21 guidebook and see what can be created with smaller single family lots and less infill restrictions on lower density multi-family lots.