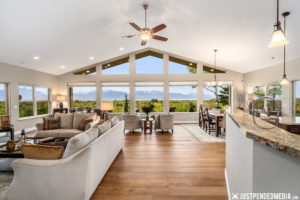 Yesterday, there were only 214 active residential listings in the Municipality of Anchorage which includes not only Anchorage but Eagle River, Girdwood and Indian. Compare that to 565 pending sales. That balance between inventory and pending is upside down. A home listed for $562,500 recently had 22 offers. Another property priced at $680,000 had nine offers within 24 hours. Frustrated buyers are willing to pay above the asking price and include escalators with hopes of winning the bid. Buyer letters with peronal appeal to sellers are the new world poetry, pulling on sellers' hearts while buyers meanwhile are emptying their savings accounts to pay above asking price. This pent up market is just not in the average sales price range of $378,000. Last week four million dollar homes went under contract. If you own a home with a tax assessed value over $750,000 there has never been a better time to sell it than now. Even the Anchorage condo market has finally awakened with 237 pending sales and a modest appreciation of 4.5% over the past three years.
The lack of inventory is not just in Anchorage's suburbs. A year ago this past week, Eagle River (technically still part of the MOA despite efforts to become its own entity) had 108 active listings. Yesterday, they had 35. Last week's pending sales were 22 and a year ago there was 12 The 'Valley' is the place to go for frustrated buyers. The Mat-Su Borough is Alaska's second largest Borough in population with 108,317 residents and has 25,258 square miles of land, much of it undeveloped. It's larger than Rhode Island, Delaware, Connecticut, Hawaii and New Jersey combined, making it a residential land developer's dream come true. Last week, Wasilla had 144 active listings and 34 pendings so a much more balanced market but still there are reports of multiple offers for single family homes under $300,000. Palmer, now the most talked about Valley destination, had 16 new listings last week of which eight were new construction ranging from $350,000 to $820,000. So the Valley is not just for entry level buyers. Anchorage, on the other hand, has only 33 single family homes under $300,000 for sale and no new construction
Homer, the number one destination for Alaskans who want to retire and still live in Alaska rather than Arizona or California, also has a shortage of inventory. There are no condos for sale in Homer but 19 active listings with an average sales price of $332,571, making it a still affordable retirement community. Tom Bodet said it right in his famous radio show "Homer, Alaska, the last decent parking place in north America."
So a year has passed since covid-19 required Alaska to hunker down And the residential market appears to have weathered the virus and with more sales to come. The billion dollar stimulus money, the PPP checks, the weekend deposits of $1,400 for many Alaska will continue to fuel the market. It is no longer just about historic low interest rates. The flush of funds and the residual impact will generate more jobs. The covid-19 response has reshuffled and relocated many businesses and jobs. Alaska has become a destination for some IT workers who now can live anywhere in the world. In our office alone, we recently sold two homes to new IT residents. I was here in the early 1980's when the housing boom was created by the pipeline. I was also here during the crash when thousands of homeowners turned in their keys and drove down the Alcan. Today is a different story.