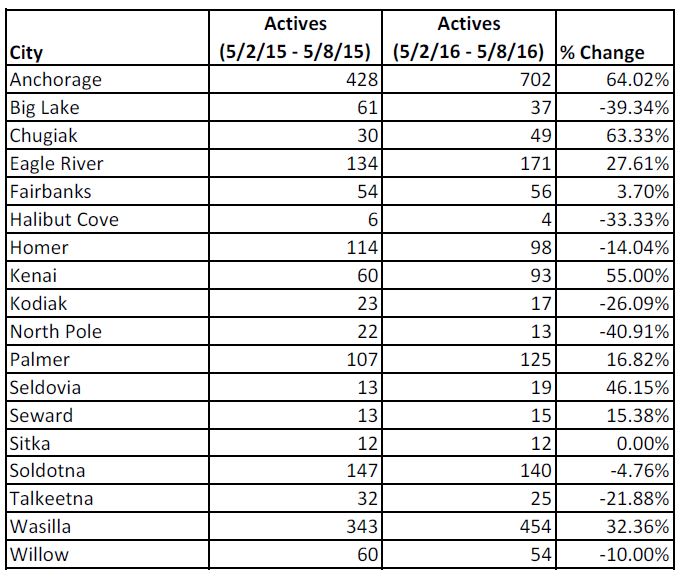 As you might have suspected, Anchorage inventory has continued to increase over the past few weeks. Spring and early summer is the time of year when sellers like to put their homes on the market and our uncertain economic outlook has no doubt helped increase Anchorage's inventory. A snap shot of a week's inventory of available homes in May when compared to the same time in 2015, shows a 64% increase in active for sale single family homes. On May 2, 2015, there were 428 homes for sale.  May 2, 2016, there were 702.
Not all Alaska communities are showing such a dramatic increase in inventory and some inventories have actually declined. Wasilla, as you might expect, has had a 32.36 percent increase in inventory, an increase from 343 to 454.  Kenai had a 55% increase, from 60 to 93. Chugiak has increased from 30 homes to 49 and its neighbor, Eagle River, has gone from 134 homes for sale to 171, an increase of 27.61%.
Big Lake, originally a cabin and recreational community, has developed into a year round community with larger lakefront homes. It's had a 39% decline in available homes. There are now only 37 homes for sale compared to 61 a year ago.  You can expect that market to further tighten up as the summer recreational season takes hold.  Likewise, Homer has had a 14% decline in available homes, from 114 to 98.  Homer, Halibut Cove have established their communities as the go to place for upscale visitors as well as Alaskans. Sitka, Seward are also stable with little or no movement up or down. So it's a mixed bag of supply and demand. It's hard to explain why Talkeetna and Willow have a decreasing supply of homes for sale while Wasilla, the hub of the Mat-Su, has had such an increase.
However, neither Anchorage nor Wasilla, has reached a saturation point of oversupply. Anchorage, in particular, is still a long ways from the high water mark of 1,299 homes for sale in June 2007.