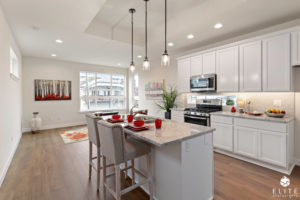 There are single family condos, duplex condos (where you purchase one side), site condos (which are enveloped in an air space), townhouse style, flats and multi-story, to identify a few. I recently had an opportunity to show condos to a buyer with a goal of purchasing a home in the $250,000 range and, frankly, I was surprised at the availability and excellent condition of many of the homes we viewed.
Several of the properties had three bedrooms, two baths and a double car garage. Many of them were built in the late 1990's and can be found in almost all of the MLS districts. These condos have reverse living. In other words, they feature two bedrooms, one bath and a double car garage on the first floor with a master and great room on the second floor. The differential in their value is due in part to location, interior amenities (laminate vs. granite or quartz), and how well the association has taken care of the common area grounds. The more desirable ones are priced in the mid-$230,000 to $240,000 range. This is slightly above the average August sales price as reported in MLS at $218,000. These condos have wide appeal from young families with prepubescent children to boomers and seniors downsizing from larger single family homes. The condos with the most appeal have an accessible backyard from a slider in one of the first floor bedrooms and a fireplace. Vaulted ceilings create vertical space and make the great room appear larger.
On the other end of the condo spectrum are the luxury condos being built downtown and in South Addition. In the higher density R3 zone, these multi-story condos have a garage on the first floor, living on the second floor and bedrooms on the third floor. The most popular ones have rooftop decks and inlet or mountain views. These luxury condos with quartz countertops, luxury vinyl tile flooring and expansive windows start at $500,000.
In the middle of the price spectrum are the duplex condos in popular areas such as WestGate. There, each duplex condo is built on its own R2A lot with a minimum square footage of 8,000 square feet which allows for fenced backyards as deep as 50 feet. Ranches and two-story plans begin at $359,000. These homes function as single family but with a shared common wall. The most popular plans are ranches and two-story homes with three or four bedrooms and a two-story element.
And then there are condos in buildings with elevators and shared stall garages. These units are the most expensive on a price per square foot of living space because they generally have shared and higher common expenses for maintenance and security and may be built to commercial building standards, depending on the number of stories.
But, whatever the price point or style, the most important consideration when choosing to purchase a condo is to understand the rules of the association by reading the public offering or resale certificate because you are buying into a defined community with rules and a budget for shared common expenses. As Anchorage's limited availability for single family development continues to decline, more and more home buyers will turn to condos. In five years, prices for all of today's condos will seem like the bottom of the market.