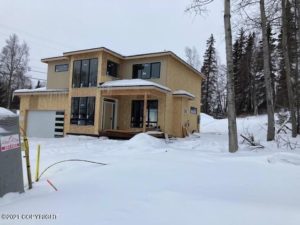 More and more buyers are tired of losing out in the local market. Searching online at midnight; waiting in line to see a new listing; offering more than listed price; adding escalator clauses; and offering to purchase sight unseen. And in some circumstances, making offers on multiple properties in hopes of snagging one. But if it's any consolation, Alaskans are not alone with their frustration. Recently, we were aware of a listing in Austin, Texas. where the buyer had to sell their home in order to purchase a home in Wasilla. The Austin home received 22 offers in less than 24 hours. These circumstances are all difficult for a buyer who's trying to make the most important financial decision of their lifetime. As a result, more and more inquiries are coming in on how to buy or build a brand new home. If a buyer is lucky enough to find a home under construction that is not yet under contract, the purchase process is straight forward. The builder has already decided the price he is willing to sell for and there is virtually little or no negotiation. Builders are required to sustain a certain profit in order to continue to qualify for their commercial lines of credit. If all of the interior selections have not yet been made by the builder's team, buyers will have the opportunity to select their own light fixtures and perhaps carpeting. But, keep in mind cabinets are about 8 weeks out and appliances can take even longer. Flooring and lighting are the last items to go into a home and so there may be an opportunity for selection. Buyers shouldn't expect any buyer paid closing costs. What I tell potential buyers is you maybe can get a microwave if it's not already built in. Builders provide final grade but not landscaping. And don't expect window coverings but screens are almost always included in a builders' package. If the home interior is complete but not the exterior, buyers can expect an escrow equal to 1.5 times the builder's cost for paint and an asphalt driveway. Buyers do have certain options for exterior paint but the selection must comply with the architectural requirements as described in the covenants, codes and restrictions. So, bottom line is offer the asking price on a spec home under construction and be satisfied that you are getting a fair deal.
Buyers are also out there looking for lots to have a new home built. I've said this before but I can't reiterate it enough. Not all lots are created equally and no buyer should purchase a lot without first walking it with a qualified surveyor or potential builder. Land developers do not provide soil test holes on individual lots. Check out the size of the water/sewer lines and extensions on in fill lots. On the hillside identify the location of gas and electric. There is a big difference between adjacent and onsite. If there are homes already built and the lot is surrounded by older homes, there may be a reason for that.
Most builders will give you a fixed price for a home to be built up to $1 million. Any home more than that will generally require the buyer to take out their own construction financing and the builder works on a cost plus basis. Builders who take out the construction financing do require notice to proceed funds (NTP) which will vary by builder but can be anywhere from 3to 10%, depending on the circumstances and how 'custom' the buyers home may be. The builder will need to judge how marketable the home might be if for some reason the buyer is unable to close. Many buyers in today's market may need to sell an existing home in order to purchase their move-up home. NTP funds are non-refundable and disbursed directly to the builder to assist in his upfront costs. Construction financing is only 75% of appraised value so the NtP funds are important to the builder.
Most builders, as opposed to resale sellers, will accept a contingency sale. It remains the buyer's responsibility to close on their new home when it is ready. Since new builts take anywhere from 8 to 10 months, this gives the buyer plenty of time to get their home ready to put on the market. If for some reason, the buyer is not ready to close, buyers should expect to pay the builder's interest, utilities and property taxes until they can close. In some instances, a builder may elect to allow a buyer to move-in but this is never a good idea for either the builder or buyer. Particularly with all the challenges we've faced in 2020, I do not advise any resale or new construction sale to have move-in prior to recording.
It's been a year since COVID and no one expected the challenges we've had in our local market—the historic low interest rates exacerbating years of low inventory. Buyers' frustrations are real and it is up to us as industry leaders to continue to practice in a professional and caring manner with full disclosures. Lets' all take a deep breath and be thankful we live in Alaska with our clean air and water and Alaska's scenic beauty.
I'm now vaccinated and taking my first vacation since COVID last March. My next article will appear April 7. Mahalo! As always, thank you for your referrals.