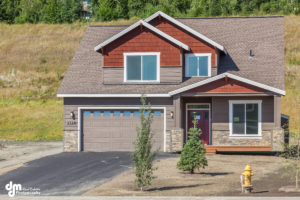 In Alaska, everybody wants a garage and the bigger the better for that summer sports car, the motor home, the fishing boat, the wood working shop, gym, fishing gear, et cetera. But garages are expensive. On a price per square foot the sheet rocker, framer, painter, the foundation layer, all charge the same for garage space as the dwelling square footage. However, the appraiser gives it only a fraction of the value. One recent new construction appraisal identified the dwelling value at $165 per square foot (excluding land) but appraised the garage which was textured and painted the same as the dwelling walls at only $65 per square foot.
Historically, garages have been 20 x 20 or 400 square feet which barely provides enough space for two medium sized vehicles. That's about what you can expect in an older single family or townhouse style condo. However, once you take away the steps from the garage to the living area and subtract the area for the water heater and furnace, most homeowners end up parking at least one car/truck in the driveway which is why you see so many vehicles parked outside in Anchorage neighborhoods. If you're considering buying a home, don't hesitate to ask if you can try parking your vehicles in the garage. Sometimes, spatial dimensions are deceiving.
In the last decade, due to buyer demand, builders have enlarged their garages so that the popular F-150 truck can fit inside and developers have limited outside vehicle storage in their covenants, codes and restrictions to improve streetscapes. Some covenants even go so far as to identify the minimum dimensions required for a garage and limit driveway and street parking to certain hours. If you're negotiating to have a garage built attached to a new home, there are several options you will want to consider. One of the most popular is textured and painted walls, particularly if you plan on spending a lot of time in the garage. A less expensive option is to just put a primer on the walls which doesn't smooth out the tape on the sheetrock but does eliminate the gray. Adding some tall windows provides extra light; so does adding windows in the garage door, although security has become an increasing concern for new home buyers. Some builders charge extra for a personnel door but for most buyers having an exit without opening the garage door is a necessity. All garages should have floor drains and triple car garages should have two. Hot and cold hook-ups are standard in most new garages but the sink and/or dog wash area is an extra charge. There are frequent requests for painted floors but that's difficult for a builder to warrant and so the homeowner should do that after closing.
There are more and more requests for four car garages and motor home storage attached to the home. It's a significant added cost for both the builder and the homeowner and on a price per square foot basis, the true cost is not reflected in today's appraisals. Buyers should think twice about how much garage space is really needed. Simply taking some of that garage space and making it a mud room in the home will increase its value.