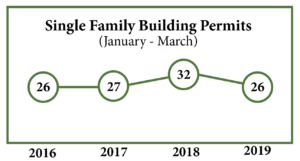 As always, the answer to that question depends on the price range, location and condition of the property. But, there are some trends worth noting. New single family permits are down for the first quarter of this year, see accompanying chart. MLS listings are also down from 2018 by 95 listings. Low inventory would usually make for price increases but, unfortunately, the average sales price the first quarter of 2019 has dropped by 5.95% compared to the average sales price of 2018. The first quarter of 2019 also saw sales drop by 66 units compared to the same time as last year. For the first time since 2015, the average price of a condo sale has dropped below $200,000 to $199,514.
Good news for buyers? Perhaps, but the shortage of inventory in all price points makes for a competitive market for a property that is well priced and in excellent condition. Multiple offers on the same property are not unusual. Older property owners are beginning to balk at requests for cosmetic fixes and countering back at health and safety items only on home inspection reports. Some properties are even being marketed 'as is'.
Almost all MLS districts have seen a decline in average price compared to last year, even if the number of sales has increased. However, it is interesting to note that MLS has an average supply of only 2.87 properties for sale. Million dollar properties are down by over 30% with only an 8.21 month supply. If you're a buyer looking for an affordable home between $250,000 and $274,999 good luck. As of April 4th, there are only 30 homes for sale spread out through the entire MOA which equates to only a 1.31 month supply. It's not much better from $275,000 to $400,000 with an average supply of only 2.5 months. It's hard for first time homebuyers to take a leap of faith for a new home purchase even when there is twice the inventory as what we have today. But, better to buy today while rates are still low than wait for summer price increases, fueled by new construction costs.
Looking into the future of housing in Anchorage, if you can find a single family home on a 6,000+ square foot lot in reasonably good condition with a seller who will take care of any health and safety issues, now is probably a good time to buy, despite all the negative news about potential job losses. I've lived here for almost forty years now and, frankly, I wish I had kept every single home I had ever owned. Not only are there the personal benefits of home ownership but Alaskans, despite two significant recessions, have always benefitted from home ownership when taking the long view.