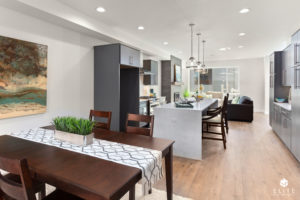 Is it a myth or reality that Anchorage citizens want to live downtown? According to the new housing report published this week by the Anchorage Economic Development Corporation "millennials to seniors, want to live close to downtown and in smaller-scale housing." The AEDC 2018 housing survey composed of 1,114 individuals with a slight over representation of seniors, with 15.7 percent of respondents being over the age of 65. Sixty-three percent of respondents were married or part of a domestic partnership while 18% of respondents said they lived alone. Seventy-three percent of respondents had a minimum of a bachelor's degree and forty-five percent had a minimum income over $100,000.
This survey is an excellent snap shot of downtown buyers—affluent, older and well-educated with a smattering of sophisticated millennial buyers who frequently have migrated north to Alaska from lower 48 urban areas. According to the survey, 83% of respondents preferred a one level single family home while 64% would prefer a single level multi-level home. Forty-eight percent said they would consider living in a townhouse or condo.
Although Anchorage citizens overwhelming prefer to live in a single family home, a recent change to the Title 21 land use ordinance created accessory dwelling units in an R1 single family zone. According to a recent MOA official, only ten such permits have been issued since the ordinance took place and only 18% of respondents are interested in living in an ADU. Senior housing, apartment living and micro-housing also fell well below the 20% level of interest. Yet, Anchorage planning officials continue to press and encourage higher density development, including mixed-use development which is retail on the first floor with three or four stories of apartments above. Only 9% of residents want to live in an apartment complex with six or more units.
One builder in Anchorage, Hultquist Homes, has made a commitment to lower density development in downtown Anchorage. Since 2009, Hultquist Homes has built, is building or committed to building over 40 housing units, including townhouses, duplex flats, lofts, small single family condos and luxury one level units about to come out of the ground on Coastal Place, directly behind Petersen Towers. These new housing units begin as low as $350,000 upwards to $1 million plus. It's a commitment to the redevelopment of downtown Anchorage and the Live. Work. Play initiative that I am proud to be a part of. These homes are being built without subsidies or tax abatements that are frequently provided to larger residential developments which according to its own AEDC report, less than 50% of respondents want to live in.
For more information on downtown properties for sale, contact me at 907-229-2703. I look forward to hearing from you.