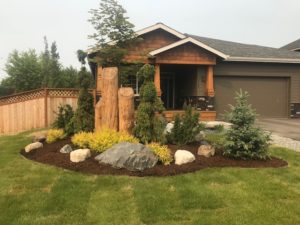 Alaska's senior population is growing.
According to Alaska Economic Trends, Alaska has an estimated 87,304 seniors, up from 54,938 eight years before and more are on the way.

Anchorage/Mat-Su added more than 17,000 seniors, representing over half the state's overall increases. The report goes on to identify many seniors as well-educated boomers who arrived in the 1980's and have made Anchorage and Alaska their permanent home. Nearly one in four live alone and 57 percent of those are women. Eighty-two percent of Alaska seniors live in owner-occupied homes compared to 64% of Alaskans. Home ownership is an important part of their well-being and lifestyle. An interesting note is seven percent live with grandchildren and about two percent are responsible for their care.

The challenge for our housing market, however, is what type of housing is available for them to age in place. Even the fifty plus year olds I meet at open houses worry about climbing stairs to bedrooms because of their hips and knees. More buyers are asking about a two-story home with a first floor master, a hillside ranch or a smaller ranch home. Large lots no longer interest them due to the time and expense of lawn care. These buyers prefer new so that there is not the unexpected cost for roof, furnace, hot water heater replacement, et cetera. They also recognize the benefits and savings of Alaska's five star energy rating for new homes because they most likely live in a four star home built in the 1980's.

In 2018, 2776 single family homes sold in Anchorage and Eagle River and l5% or 440 were single family ranches. I found that number hard to believe but trust me, we double checked it. The average price was $252,000. But, here is the problem. Today's new construction ranch home has a median price of $450,000. The majority of them are located in the Eagle River/Chugiak area where land is more available and, thus, prices slightly lower lot costs.

If Anchorage wants to keep its older population, we need to increase the maximum 40% lot coverage ratio that currently exists in Title 21. Smaller lots with increased lot coverage ratio for single family ranch homes will bring the cost of home ownership down for Anchorage's senior citizens.