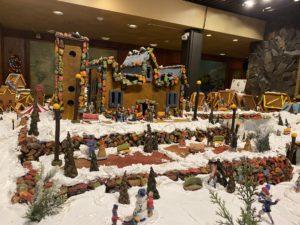 Your new or home remodel in 2021 may not have a tub in the owner's bath but rather a large walk-in shower without a 'curb' on the shower pan. In fact, it may even be a walk-through shower with 12 x 24 smooth flat tiles without a pattern accent. That's the latest buzz online and locally. Recently, I interviewed Stacey Dean with Grayling Construction who's company does major remodels. "We are booked up all through next year," Stacy commented in a remodeling class sponsored by BHHS Alaska Realty. Due to the pandemic, homeowners are spending more time at home. And it's not just the kitchen which remains the heart and social center of every home that gets the remodel. According to Stacey, they are getting a lot of requests for workout spaces, home offices, decks for enjoying the outdoors and more space for recreational storage like for bikes.
But remodeling is expensive, even more so than the cost of a brand new build. Why? Because there is a cost of demolition and you never know what to expect when you open up a wall. Plumbing and electrical along with structural all have challenges in a 30 or 40 year old home. Plus, carpenters and plumbers need to work around the homeowner's schedule. The best case scenario is for the owner to move to the basement or to a rental while the remodel is being constructed. So what are homeowners asking for? Cabinet doors are still flat with recessed panels. Earth tones are not in. Even though it's a gray wintery day, gray is still the 'it' color mixed with white and natural woods. Dark espresso stains are back in.
The 2021 color of the year is aegean teal. But, I'd prefer it on towels and pillows rather than on the wall. Benjamin Moore has an easy to use website if you're searching for color combinations for painting a home's exterior. I've been on the site and will be using it to approve exterior colors for Sandhill Reserve, our new home community near Kincaid Park. Houzz continues to be a great source for design ideas. But what looks good online can be very expensive in Alaska. Just remember, Alaska has no manufacturing of building materials. Twice I've heard this week about how difficult it is to obtain appliances! And inflation is definitely what we can look forward to in 2021. Stacey pointed out that a dimmer switch used to cost $1.50 and it's now $5. Vinyl plank and tile flooring in primary living areas although carpet in upstairs bedrooms and hallways is a better sound muffle.
"Industrial farmhouse style is really what most people seem to want," according to Stacy. It's that rough look with white cabinets (yes, still), plank floors and the proverbial farm sink. The exterior has clean vertical lines with beams and a smooth exterior skin. I've been searching for a term when a buyer or an interior designer loses sight of their initial concept and veers off to something they saw on Houzz. It's called 'scope creep' when for whatever reason a home looses its interior or exterior design discipline.
Every Year the Hotel Captain Cook Creates a Gingerbread Village and This Year Was No Exception. My next article will appear in the Sunday paper on December 28th with a recap on the 2020 market and a look forward to 2021. Thank you for being such dedicated readers. Best wishes for a healthy holiday. And, as always, I appreciate your many referrals these past 40 years.