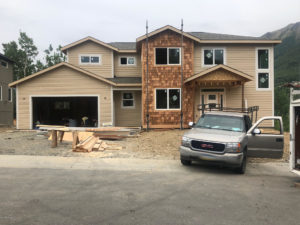 Late August is the rainy season and it's also a reminder that if you want to have a new home built this year, you have about 45 days to get into the ground before builders will have to heat and tent their foundations which will add between $5,000 and $10,000 to the cost of a new home, depending on the weather and the size of the foundation.
With only 132 new permits issued by the MOA for the first seven months of this year, buyers wanting a new home are having to work from 'scratch' to find a location, builder and plan. If you've been looking for a lot, you know they are in short supply. Our new subdivision, Sandhill Reserve, at the corner of West 80th and Sand Lake Road is one of less than a handful of new home communities available. Homesites in Resolution Bluffs are selling well and so are hillside lots., particularly with inlet views. Three Resolution Bluff lots have pended in the last thirty days.
But for home buyers the idea of selecting a lot, a builder, and a plan can be a daunting experience. It starts with an idea and, frankly, it takes about 60 days before the evolution ends up with a final plan and price. Today, more than ever, buyers are rethinking how they want to live and utilize their living space. We've been talking about the home office for a number of years now but today due to COVID 19, the home office has become a necessity. And builders are quickly adapting their plans to this new reality.
The most frequently asked buyer question when considering a new build is what is my financial responsibility. Probably 90% of all new homes built on a pre-sale (when the builder has a buyer commitment as opposed to a speculative build) are financed by the builder. The buyer's responsibility is to provide a 90% letter from a mortgage lender which states after a review of their credit score, income verification and debt to income ratio that the buyer is approved for the desired mortgage amount and has funds available to close. It will also state whether the loan approval is contingent upon the sale of the buyer's current residence. Each builder reacts differently to an offer with a contingency. Some will want a larger notice to proceed amount; others will want the buyer to pay their interest, taxes and utilities until they are ready to close on the newly completed home. Notice to proceed funds vary from 2-10% and depends on the price point and how comfortable the builder is with the plan and buyer selections. Notice to proceed funds are non-refundable and disbursed directly to the builder to be used for permit fees, plans, appraisals, et cetera. The buyer receives credit for the notice to proceed funds at closing as part of the down payment and/or their closing costs.
Almost always the builder takes out the construction loan. He has a line of credit with a local lender that covers the lot purchase and 75% of the cost of the home to be built based upon a construction appraisal. The other financing option which occurs most frequently in the one million dollar plus market is for the buyer to take out the construction loan and then the builder receives a negotiated percentage of costs on a monthly basis at the time the construction draw is approved by the owner/buyer and the buyer's lender. Some buyers may decide to buy their lot and take their time developing a set of plans and selecting a builder. However, keep in mind if you are not going to take out the construction loan, you will be required to subordinate (deed the lot) to the builder. That's more than the 10% nonrefundable notice to proceed funds disbursed directly to the builder that a builder will require before he gets his permit. A few custom homes are on a cost plus basis. However, for most new home buyers a fixed bid with an approved plan and allowances needs to be part of the purchase and sale agreement. That fixed price should also include the cost for a well and septic if the lot does not have public water and sewer. Any extras and upgrades are paid for in cash prior to ordering and installion by the builder when dealing with a fixed price purchase and sale agreement.