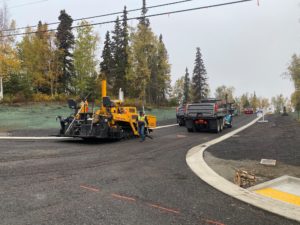 Even though most home buyers would like a wider lot, Anchorage lots are getting narrower due to the high cost of road and water/sewer extensions. The cost of water service with an 8 inch pipe is $350 per lineal foot. The cost of a sewer service is $350/lineal foot. The cost of an urban road with pavement, gravel, insulation, curb, gutter and sidewalk is $1,200 lineal foot. The price to provide these services to a 50 ft wide lot is $95,000, not including gas and electricity. Then, according to a study by the National Association of Home Builders, the cost of applying for zoning approval averages $6,473. Over the past five years, on a national average, there has been an 11% increase in the total effect of building codes, land use, environmental and other rules which has added a total 23.8% to the cost of a development. Delays during the cost of development amounts to an average of $1,420.
Now, we also have the additional cost of delays during construction due to the supply chain break. So where are the windows? According to national reports, there are 200,000 containers waiting to be unloaded at Long Beach—the largest Pacific port bringing in goods from China. You could also ask that same question for appliances, lighting fixtures, sheetrock, cabinets, et cetera. Local builders are waiting four months just for windows which have to be installed before mechanical, plumbing and electrical can begin. Most home builders are now quoting 14 months from contract to completion. That's a long wait for the buyer who worries about a quarter percent increase in mortgage rates that is expected the first quarter of 2022 but it's even more challenging for the builder who's paying a 5.5% or higher commercial rate on his construction line of credit. Those delays can put a significant pinch into his required profit in order to stay in business and continue borrowing.
New construction homes lead the pack when it comes to price per square foot compared to resale. The difference can be as much as $50 per square foot or more depending upon the age and condition of the resale property. And that's not going to change in 2022. Inflation is projected at 2.4% for building materials which on a $600,000 home is $614,400. Any new construction home currently for sale is going to look like a bargain in 2022, once a buyer factors in a quarter percent increase in mortgage interest rates and 2.4% inflation.
Anchorage is not alone in its housing pinch. Millennials are nicely aging into the single family home ownership market now that they are married, have children and pets. That downtown condo or apartment no longer meets their lifestyle needs. The millennial buyer market is larger than the boomer generation who are now facing the dilemma of where to live once they retire. Suddenly, that 3,000 square foot home that is 30 plus years old has too many repairs, stairs and extra bedrooms. One of the most popular new home plans is the ranch with a walkout basement which is used primarily for storage and summer guests.
Yet, trading that home for 1,600 square feet plus basement is almost the same value as their resale which doesn't seem very attractive. So some sellers/buyers are flocking to more rural communities with fewer land use regulations and a lower cost of living. But, it won't be long before inflation and interest rates catch up to those locations as well. And it's not just happening in Anchorage, Alaska but all over the United States. Home ownership, once the backbone of social and financial stability for many families, is simply becoming more and more expensive.
Next Thursday, I am teaching a residential land development class via zoom. You can register for the class by calling our front desk at 907-646-3600.
Visit me this Sunday from 1-4 pm in a luxurious John Hagmeier Home located up on the hillside in Potter Highlands. Come check out the contemporary metal siding! Directions: S on New Seward Hwy, L on Potter Valley Rd, follow to left on Potter Highlands Dr.