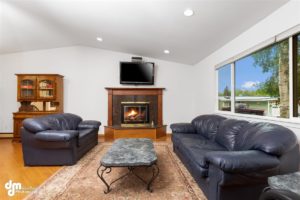 Once a week Gino Blefari, Chairman of Berkshire Hathaway HomeServices, sends out an email recapping his activities and thoughts on the real estate market. He has an inspiring boots to chairman narrative that you can check out on Youtube. So here's my Alaska version as a snapshot on our market activity. Even with COVID-19 and the various hunker down mandates, the local real estate market is more active than it has been in several years with one hundred pending sales between Anchorage and Eagle River this past week. August inventory was the lowest it has been since 2012 with only 616 residential units for sale.
Whether you're a million dollar homeowner or an entry-level condo buyer, everyone is rethinking their lifestyle as a result of COVID-19. Buyers and sellers are taking advantage of 30 year mortgages as low as 2.5% and are moving up, down or out of state. Alaska Housing's current rates include Veterans Mortgage Program as low as 2.50 percent so check out their website for additional information.
From the Berkshire Hathaway HomeServices broker to broker network, we've had two out of state inquiries about buying a second home in Alaska! Low mortgage rates plus Alaska's scenic beauty and low population is making it an attractive second home market. I spoke to two owners of $1 million dollar plus hillside homes both of whom would like to downsize but can't figure out what to buy in Anchorage which is short of inventory in all price points. Another couple is getting their home ready for sale so that they can move up to the hillside. They 'just want more space!' They are refreshing their 1984 home with new flooring and paint. I spoke to two townhouse owners who are moving to Arizona. I hate to see good people leave Alaska but it seems like this fall, more than any other year, Alaskans are afraid of the coming dark and cold weather, even though our winters have become milder. Despite concerns about the rental market, we sold a duplex in one day.
At our team meeting, we discussed escalator clauses and the increasing buyer competition for affordable single family homes from $250,000 to $400,000. My advice was if you are a buyer who's willing to pay more than listed price, then make your first offer the best offer. Your chances of getting your offer accepted are better without the escalator and it has less chance of getting shopped. Keep a tight timeline for acceptance and be sure and ask the listing licensee if there are any other offers being considered. There is no obligation by the listing licensee to give you that information but it is a professional courtesy so asking may provide you with additional information.
I ended my week on Friday with an onsite visit consultation with a sign company to discuss a monument sign, fencing and landscaping for Sandhill Reserve our new home community at the corner of Sand Lake Road and West 80th entrance. But over the weekend, I did sneak out to Sandhill Reserve to see the status of construction. The curbs are in and we should be paved by the end of this week, as long as it stops raining. We'll post a video on Facebook of the McKenna 'Army' with their turquoise trucks as they pour the asphalt on Sandhill Loop. For more information check us out on Facebook.