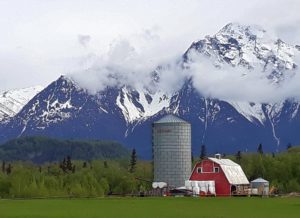 I'm sure this headline comes as a surprise to many of you who have known me for over forty years as an 'Anchorage' realtor and residential land developer. However, I can no longer ignore our great neighbor to the north. Forbes Magazine recently rated the Gateway area, which encompasses all of the Mat Su Borough, as having the highest median household income in the state at $105,543. But, more important than household income is the availability of the 'colonial' farm lands which have quietly been selling to residential developers for the past ten years. Mat Su's land base is 25,258 square miles compared to the Municipality of Anchorage's 1,944. Farm land has good soils, little or no wetlands and generally flat topography– all characteristics which make it ideal for residential development. Regardless of whether or not you politically agree about the conversion of farm land to residential development, it is occurring not just in the Mat-Su but in fruit orchards in the northwest and elsewhere in the nation.
We've said for the last decade that Anchorage is running out of land and now it is obvious to any buyer looking for a nice homesite. The pandemic of the past two years has changed the way we think about how and where we live. The new work from home model, even if only part-time, allows employees to think differently about where they might live. A forty-five minute or even an hour's drive from the Valley to Anchorage's commercial center doesn't seem as daunting if it is only 2-3 days per week. After all who wouldn't want to be closer to biking, hiking, fishing, on a borough acre lot which is 30,000 square feet. And prices for home sites and, thus, homes are less expensive. The average price of a Mat-Su home was $347,975 compared to Anchorage's $424,148 at the end of 2021. Due to the availability of land, lots are also larger and wider which enables more horizontal ranch designs and triple car garages. It's interesting to note a recent survey of new construction homes between $350,000 and $550,000 that 2/3rds of them were ranches, indicating that young families and retirees like the idea of one level living. That opportunity is difficult if not impossible to find in Anchorage with its land use constraints and high cost of development, due to poor soils and steep topography. Anchorage ranches, if you can find one, are narrow and long as opposed to wide and shallow.
I'm pleased to announce two new single family communities in the Mat-Su. Valley Ridge is less than ten minutes from downtown Wasilla and within walking distance to Lake Lucille Park. Coming out of the ground this spring are ranches and two-story homes on lots as large as five acres. These borough acre lots are reasonably priced beginning at $77,000. There are two cul-de-sacs and a walking trail along south Endeavor Street. The 79 acre Lake Lucille Park has a fenced dog park, soccer fields, pavilions and public lake access.
In Palmer, Cedar Park borders the original Cedar Hills community. Just five to seven minutes (depending on if you take the backway in or hit the stop light) from the Palmer Fred Meyer store where the vegetables and fruit are as fresh as anywhere in Alaska.With 4 cul-de-sacs, curvilinear streets and dedicated open space, these 'acre' lots are now available for an appraised value of $84,000. From the Old Glenn Hwy continue past the intersection of E. Palmer-Wasilla Hwy. Then left on Marsh Road and right on Cedar Hills Drive. The first cul-de-sac is on your left.
For a preliminary plat of Cedar Park and homesite information and CCRs on Valley Ridge, please contact me at 907-229-2703. I look forward to hearing from you.