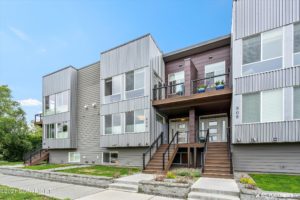 The Florida Surfside condo building's collapse is a real estate tragedy with 98 lives lost. Alaska doesn't have any twelve story, 136 unit condo buildings located on a barrier island but there are lessons any condo owner or community board member can learn from its tragic collapse. There may be plenty of blame to pass around from the original developer, the engineer, the local government which required routine structural inspections, the property manager, and the community board of directors. The building was insured for $50 million or $367,647 per unit and rather than be involved in years of litigation, the insurers paid out the full amount. But the amount was not enough to deter dozens of lawsuits, including against the Champlain Towers South Condominium Association.
Every homeowners' association has a board of directors. However, the power of the board is limited to the owners who have voting rights to approve the budget, update documents, hire and fire consultants. If the voters don't like the decisions of the board's directors, they simply vote them out like registered voters do for a mayor or governor. Usually, board responsibilities and 'arguments' revolve around maintenance and management of reserves. The investigation into the causes of the Champlain Towers condominium collapse will likely take months, if not years. However, there are important takeaways, even for smaller Alaskan associations to prevent another loss of life tragedy in the future. Serving on a condo board should not be taken lightly. Most board members begin with the best of intentions as a friendly neighbor wanting to protect their real estate values. However, good intentions are sometimes not enough. The first priority for a board member is to educate themselves. Board members need to learn how to think long-range regarding maintenance, repairs and emergency plans in case of fire or earthquake.
Hiring experts like accountants, attorneys, contractors who are licensed bonded and insured, engineers with E and O insurance, insurance agents, licensed property managers and reserve study specialists can assist in long range planning. Relying on experts can assist in avoiding liability. In other words, it spreads the risk around.
No condo owners want to see an increase in their monthly dues and that's where neighbor is pitted against neighbor. We realtors all too frequently judge a condo by its monthly dues rather than looking behind the amount to see how the dues protect you from future liabilities. Condo associations should have sufficient reserve in case of an emergency. Just like any form of real estate ownership, repairs over time are inevitable and in a condo community, there must be reserves established to cover inflation, repairs and emergencies. Although we have not had a major building collapse, we have lost a handful of units due to earthquake damage. We also had a major fire in a downtown complex several years ago and most recently a development that has structural issues with a large pending assessments. In Alaska community association loans are available that face an unexpected assessment but that do not have long range reserves. Bottom line, serving on the executive board really does involve more than resolving issues over pets ,poop and parking. A board must deal with architectural control approvals and violations; set the annual budget; hire contractors to maintain common elements; file federal and state taxes and conduct all business for the association with the help of professional consultants.
As always, thank you for your many referrals. Feel free to give me a call at 907-229-2703.