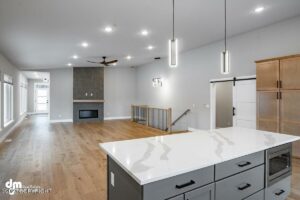 Despite our record breaking snow fall, the spring home buying season has already arrived! There's always been the annual influx of military, medical and oil related relocation buyers in the spring but this year they started arriving early as if they knew it was going to be a tough time finding a home before schools let out in the lower 48 and their families arrived. This year they were met not only with several feet of snow piled in cul-de-sacs as high a two-story home they might be lucky enough to look at but also historic low number of homes for sale and record high new construction costs.
Yesterday, there were only 98 homes for sale in Anchorage. Eighteen were over one million and 50% were over $600,000. Yet, the average MLS sold price hovers around $450,000. Eagle River, a subset to the north and home to many military and civilian employees on JBER had only 26 homes for sale and Girdwood had 3. The condo market had 24 units for sale. With only 3 below $250,000 while the average sales price is $237,000. So far this year, our Anchorage closed sales volume has dropped by 46.84%. The number of units closed has dropped by 47.51% all due to low inventory. Local and national mortgage companies are closing their doors or consolidating. Title companies will be forced to raise their fees.
Anchorage is in desperate need of housing of all types, sizes, shapes. It's a dire situation which will take years to overcome. The new Title 21 which is now eight years old was conceived in a time when we had over 8,103 homes for sale in 2015 compared to 3,453 in 2022—a difference of 80.47%! Its intent, on a committee that I served on, was to make Anchorage a more beautiful and friendly place to live with more landscaping, more sunlight between homes, no side entries, more common areas and although we can't blame it all on the new title 21 which is now an old Title 21, it needs to claim its disappointing share for increased costs and low inventory.
According to national statistics, the cost of regulation amounts to about 25% of a new home. We have the same fire codes as Chicago. The same is true for plumbing and electrical. Our road grades are capped at 10%. Getting even a quarter percent variance can take months and cost thousands of dollars in consultant fees and interest expense created by the delay. A requested rezone will probably take three months to get on the calendar and even if approved, it then has to go back to the P and Z for final review before moving on to the Anchorage Assembly agenda which will most likely take another two to three months. Developers wanting a rezone can plan on 18 months. New home builders and buyers shouldn't have to wait that long. It's not only a bottle neck but a broken one.
Right now, spring home byers are looking at 9 months for a new build as an alternative to a 42 year old resale. A brand new 2,200 square foot home on an average size lot with all utilities will have an average price per square foot of $350 which equates to $770,000. Good luck finding one that is already built but either way add at least another $30,000 for appliances, window coverings and landscaping and you are at $800,000+ and that is if you can find one already built. No wonder pre-owned homes coming on in this price point can have as many as 15 offers in one day!
An aged resale home; an expensive new construction home or a move to the Valley. More on the move to the Valley next week.
Thank you for your many referrals over the past forty decades. Residential real estate and land development is my passion—regardless of the location or price point. Please feel to give me a call at 907-229-2703. I look forward to hearing from you.