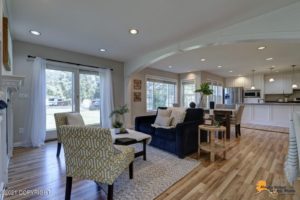 Is it the Zillow estimated value; the tax assessed value; the market value based upon a qualitative market analysis by your realtor or the value a qualified buyer is willing to pay for your home? But then do any of those values matter if the mortgage lender doesn't agree with the independent appraiser's value? According to Paige Hodson, who is a member of the Appraisal Institute and has over 40 years of experience, even mortgage lenders and appraisers may have different opinions on how to establish value. With a 14% appreciation rate over the past 15 months, some, but not all, appraisers are making a 'time' adjustment to their final valuation while others are ignoring valuable marketing information. Hodson advises realtors and private parties to provide marketing information to the appraiser which should include how many days on the market; the number of multiple offers and, in some situations, the 'dreaded' escalator clauses. No seller or realtor likes dealing with poorly worded escalator clauses. One recommendation to avoid the escalator, according to Hodson, is to offer to pay seller's closing costs. The net to the seller may well be the same as the escalator price and there's less of a chance that the appraisal won't meet the agreed upon purchase price.
For example, a property goes on the market for $500,000. Multiple offers are received as high as $525,000. The well advised buyer offers $500,000 but also offers to pay $25,000 in seller's closing costs. The market value is confirmed at $500,000 and the buyer has extra tax benefits for paying additional closing costs. Unfortunately, some realtors are manipulating MLS listing prices by after receiving a higher price changing the original list price to meet the offer to support the contract price. This is unfair to the general market regarding percent to sale statistics. It is a practice that should not be allowed by the statewide Multiple Listing Service. There is nothing wrong with a home selling above listed price–only if it is not accurately reported.
The one universal item that can create conflict between buyers, sellers, home inspectors, appraisers and mortgage lenders is repairs. Currently, we have a number of outside lenders in the marketplace and each one has a set of standards regarding the condition of the property before financing can be approved. There is even no real agreement on property being sold 'as-is'. Some lenders will require health and safety items. Some may even look at photos and want repairs made based on what they see in a photo. But, the one item all lenders seem to agree on is 'egress windows'. Whether it's a full basement, a daylight basement or a walk-out, all basements require adequately sized egress windows if the space is to be properly valued as living space. This applies to all windows in a dwelling, not just basements. Older homes may have egress window issues even in bedrooms.
Anecdotally, we have seen a slow down in multiple offers and some price reductions, particularly on older single family homes. Builders are still facing supply chain issues but soft lumber prices have stabilized. But, keep in mind long delays for cabinets, windows, appliances and even now a gallon of paint, all have a hidden cost. The longer a home takes to be finished, the more the builder pays in interest charges which ultimately adds to the cost of a new home and increases the builder's risk.
Visit me in Sandhill Reserve with 7 new homes under construction on Sunday from 1-4 pm at the corner of Sand Lake Road and W 80th!