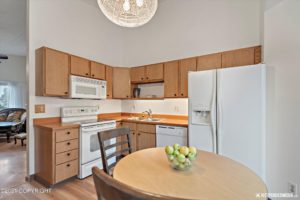 1. Million dollar home sales continues its robust climb with 41 closed sales YTD compared to 37 for all of 2020.
2. At the opposite end of the housing spectrum is the condo market. There are 411 condo associations in Anchorage and 13,844 condo units. The average price of a condo sold YTD is $226,997. The condo market has appreciated just 7.37% since 2020, making a condo purchase the only BEST BUY IN THE MARKET TODAY!
3. For sale August 2021 housing inventory was 493 single family homes – the lowest number since 2013 and 50% less than August 2018.
4. There is less than a one month supply of homes between $300,000 and $450,000. The average price YTD for a sold single family home is $426,681. This is the pressure point for our housing market.
5. Is the Anchorage Market Softening? July 2021 saw a 4 unit sales decline from July 2020; August 2021 saw a 16 unit decline. These two months of decline are the first signs of a weakening market since June of last year. The decline is nominal but is worth noting.
6. The Municipality of Anchorage has 13 MLS districts. Downtown Anchorage, despite the cannabis shops and homelessness, has had a 176% increase in homes sold.
7. At the other end of the MOA, Girdwood has had a 39.13% decline in number of sales. The average price for a single family home in Girdwood? $733,821.
8. Potter Marsh has the second highest value at $687,000.
9. There have been only 142 single family permits issued through August 31 – the same number as last year.
10. The average permit value was $400,621 which does not include land cost. Add $150,000 for land and it's obvious new construction can't build to the average sales price of $426,000.
11. So where do buyers who want a single family home move to? The Mat-Su Borough has an average sales price of $347,300 with a half acre of land and an hour's drive to Anchorage.
12. The Mat-Su Borough is the fastest growing area in Alaska with a growth of 20% in the last decade. The current 2020 census gives it a population of 107,081. The MOA population is 291,247. The Mat-Su has a land base of 25,258 square miles compared to Anchorage's 1,944. Welcome to the NEW Anchorage.
Thank you for your many referrals. Visit me this Sunday from 1-4 pm in Sandhill Reserve, Anchorage's most popular new home community with 7 homes now under construction. Located at the corner of Sand Lake Road and West 80th. For more information, call 229-2703