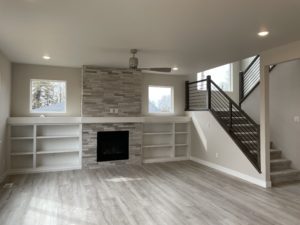 Because they have no ghosts; no fingerprints of a past life; no lost memories. It's a new beginning mingled with the smell of sawn cedar, LED lights and smooth, freshly painted walls with no texture. It's a first coat of paint—pure and simple—in so many different ways. There's no scarring and certainly no wrinkles in the sheetrock. For all these reasons and more, I have always lived in a new home whenever I have had the chance.
This weekend and next is the Spring Construction Showcase and I hope to see you there. The benefits of buying a new construction vs. an existing home are many. I understand it's not an easy decision to make. It's time consuming, frustrating, and, let's face it, costs more price per square foot than the resale down the street. And you will undoubtedly need a new washer/dryer, window coverings and landscaping. Plus, suddenly, that love-seat or dining room table no longer fits the new lifestyle and floor plan. But aside from that fresh start to your memory bank, a new home also comes with updated electrical wiring, code compliant plumbing, 2x 6 construction and energy efficiency. Lower utility bills are a real savings and so is low cost maintenance, especially the unexpected roof or furnace replacement, despite a thorough home inspection.
Most of Anchorage's housing inventory was built in the 1970's or early to mid-1980's. That makes it almost 40 years old which is when an appraiser identified not just cosmetic but functional obsolescence. Even a nicely remodeled home will have 2×4 construction and perhaps paneling rather than sheetrock for a lower level wall. Building a new home is a leap of faith when it comes to making a decision on the plan, the lot and, most importantly, the builder. Here are some basic guidelines to follow. First, make sure you select a contractor that has a residential endorsement and is licensed, bonded and insured. Find a contractor that has a floor plan you like and is building at or near the area in town you have selected. Mat-Su Valley builders may build to a different standard than Anchorage builders per their code requirements. Bear Valley, Girdwood, Indian and Eagle River have land use permits only. That means that all the MOA officials due at the building permit counter is verify the zoning. That doesn't necessarily mean you shouldn't use a builder but if there is a significant difference in price it may be due, in part, to the number of electrical outlets in the plan and other items. Finally, good communication is a MUST. Make sure whoever you select has a good program for regular communication with you whether that's thru updating the on-line Builder Trend software that many builders are using today or just simply returning your texts.
Berkshire Hathaway HomeServices Alaska Realty has eight entries in the Spring Construction Showcase—from a million dollar home in Prominence to Potter Highlands to a fresh approach to first time home buyers in Pilot Cottages at 11th and Cordova. And I am particularly proud to offer our newest new home community—Sandhill Reserve—where six of Anchorage's best builders have homes under construction. You'll see new rail systems, a combination of light gray walls, wide white trim, windows all the way to the floor with cross lighting and natural brown accents on the interior and exterior. It's a soft modern approach to interiors and exteriors. I hope you like it.
Thank you always for your many years of reading my articles and the many referrals. I hope to see you at the Spring Preview this Saturday and Sunday from 12 to 5 pm.