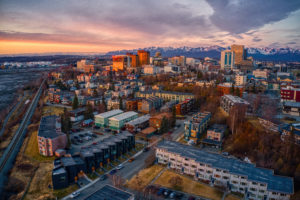 The Anchorage residential market continues on its robust journey of higher prices and multiple offers. The May 2021 average sales price was $458,580, the highest monthly sales price ever recorded since January 2013. Yet, of last week's 112 pending sales in Anchorage and Eagle River, 90 of them were under $499,999 which brings me to the subject of this week's column the unit lot subdivision and why we need a change in 'policy' in order to meet our affordable housing needs.
The unit lot subdivision is designed to avoid some of the high costs associated with condo development. Those costs include reduced financing and insurance costs to both the developer and the homeowners, reduced HOA fees, and perhaps most importantly better utilization of Anchorage's rapidly depleting residential land. The unit lot subdivision would include greater flexibility in laying out lot lines, circulation and setbacks when compared to conventional subdivision standards.
The unit lot subdivision is similar to the zero lot line ordinance that was abandoned in the late 1980's. Many of those units built had an attached common wall but what was left out of the zero lot line ordinance was the requirement for an homeowner's association to protect future property values. If there is no HOA, there is no mechanism for enforcement of the covenants, codes and restrictions or architectural requirements. Thus, one unit homeowner can decide to paint their exterior green, not repair their porch or replace their leaky roof, leaving the other attached unit homeowner hostage. Wisely, the unit lot subdivision prevents that from reoccurring by have an homeowners' association, otherwise the only enforcement for the CCRs is superior court. If you call zoning enforcement, they will most likely tell you they do not have the staff nor the will to enforce CCRs which ultimately pits neighbor against neighbor in superior court. Most homeowners don't go that far and simply move away, sometimes even at a financial loss.
The unit lot subdivision allows for eight units on a single tract of land in most of the residentially zoned districts. However, the current planning policy is NOT to allow a five acre tract of land, properly zoned allowing for unit lots, to be subdivided into multiple lots, which would increase the density and allow for fee simple ownership of the units to be built. This is a policy interpretation which, given the dire need for more affordable housing, should be changed to allow greater density. An example would be an acre of land which can normally be divided into 3-4 single family lots. Within a unit lot subdivision, it could accommodate 8 units of equal building size.
There are, of course, platting requirements and design standards that need to negotiated with the planning authority but a change in 'policy' allowing for larger tracts of land to be subdivided into lots which allow for up to eight units would assist those buyers looking to purchase under $500,000. And would keep some buyers in the municipality instead of driving to the Mat-Su Valley.