There's been little change in the Anchorage real estate market over the past five years. The average price of a single family home has remained stable, varying up and down by only a few thousand dollars from $364,919 to $375,000. Residential inventory has had a slow decline and the days on the market have had a slight increase from 45 days to 49. There is a significant decline in the number of foreclosures, only 166 through the 3rd quarter of 2019 compared to 272 in all of 2018.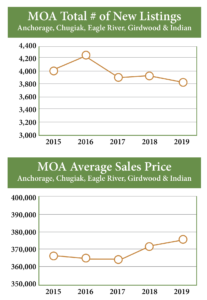 Total deed of trust recordings for the MOA, including private party sales and commercial activity, have had a significant decrease with $3,387,384,048 in 2015 to $2,414,127,584 in 2019.
Single family permits for new homes continue to bottom out at 184 in 2019—one of the lowest ever reported. Duplexes ended 2019 with 72 permits, the same number as in 2018. Multi-family permits decreased from 145 units in 2018 compared to 66 in 2019. Let's all be thankful for continued low interest rates which have substantially contributed to our local market stability. And although I predict interest rates every year, probably the safest prediction yet is that they will remain stable through 2020 with 30 year fixed rates hovering just above 3% with a credit score over 750.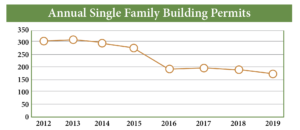 So behind all these numbers are some nuances and challenges for 2020. In residential, the downtown area took a 17% decline from 2018 in average sales price. Over built? Maybe. But also, maybe the wrong product with two flights and 32 stairs to the bedroom level; small and narrow living areas; and in some instances, only a single car garage. The 'vibe' for downtown living may now be past tense unless there are unobstructed inlet views. Unfortunately, it is also the highest crime district in Anchorage despite its new police presence.
Go south to Girdwood, however, and it's had a 30% increase in the average sales price. People who are in the know tell me there's a waiting list of buyers for homes and lots. The DeArmoun/hillside district has also had a slight increase in value. For those buyers, it's all about the size of the lot and a view of the inlet. Mountain views are a plus but they don't have the high dollar value of inlet views. All lots are going to be scarce this year whether on the hillside or in the flat land. The 99 lot Resolution Pointe community is now totally built out with the exception of Resolution Bluff's inlet and estuary lots starting at $239,000. Huffman Timbers lots are all sold with only four more homes yet to be built/sold. Heatherwood's first phase tops the chart with 15 lot sales. New on the market is Mike Quinn's Braendel Creek community with thirty heavily treed lots in Eagle River, slightly varying topo to accommodate basements and above average lot sizes. Late summer there will be Sandhill Reserve with 42 lots at the corner of W. 80th and Sand Lake Road. Buyers should expect to pay $145,000 for any lot with public water/sewer and on a dedicated road maintained by the MOA. If you can find one for less, it's a bargain.
But there's another challenge perhaps even more important than lack of home building lots and that's the age of our housing stock. Over 75% of Anchorage's housing stock was built between 1970 and 1990. Once a home reaches 30 years, it marks the beginning decline of its economic life. Just like human aging, a home requires maintenance and regular check-ups for health and safety to slow down its decline and maybe even needs a face lift with new paint and carpet. Kitchens and bathrooms are spendy items, however, and can cost upwards of $30,000 for a kitchen remodel and $15,000 for a bathroom do-over. If sellers can't afford to update or remodel, keep in mind that good housekeeping adds value.
Both property taxes and utility costs add to the cost of home ownership and are frequently under reported or considered when it comes to evaluating the true cost of homeownership. Anchorage has the highest property taxes of any borough or municipality in Alaska and although our home prices have stabilized our taxes continue to increase with every bond approval. Even Juneau has lower property taxes at $4,605 for a $500,000 residence compared to Anchorage's $6,585. Anchorage's electricity costs at 20.3353 per kWh is three times that of Portland, Oregon; almost twice the cost of Juneau. Fairbanks has the most expensive kWh at 23,695.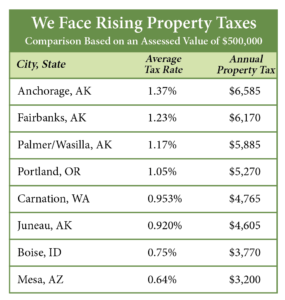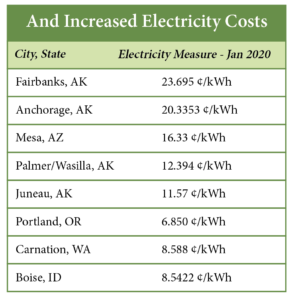 Over the past seven years, the MOA has lost approximately 10,000 residents and not all of them have moved to the Valley. Yet, despite this loss Anchorage faces a critical housing shortage, particularly in the 'Missing Middle'. More about that housing need next week.