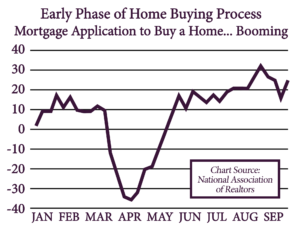 A longtime friend, client and real estate investor wrote me this week expressing his concern about the future of the south central residential real estate market. His take is there has been a slight slowdown in the market (true) and the emerging combination of factors affecting the market (economy, holiday season, the virus) will overpower the historic low interest rates that have been fueling over $1 B in real estate transactions YTD. He is pessimistic that the usual new year uptick in sales will not occur, due in part to the state's economic woes. Is he right or wrong?
I was depressed for a couple of days after reading his email, remembering the 1986 and 2008 crash. Then, with the help of my staff, I did a deep dive into the numbers. It's true that there has been a slight slowdown in the market. Last week, there were 82 pendings compared to 100 the last week in September. The $350,000 to $399,999 was the only price range that saw an increase when compared to 30 days ago. But, I can't contribute the decline to buyer's market fears but rather lack of inventory. September residential active inventory was down by over 30% when compared to September 2019.
Dr. Lawrence Yun, chief research economist for the National Association of Realtors (NAR) recently gave a recap of the early phase of the home buying process based upon mortgage applications. The chart indicates the slump last spring when COVID hit but look at the boom and the upward trajectory for the middle of September. We cannot underestimate the value of the historic low interest rates. I've spoken to several buyers in the past two weeks who have qualified for a 2.5% mortgage for 30 years. I've been selling real estate for 40 years and the highest mortgage rate ever was 6 times greater than 2.5%.
Yun, who's research includes info derived from 1.4 million realtors, remains optimistic for a stable market and slightly upward market for sales and appreciation for 2020 based upon low inventory for both resale and new construction homes. The pandemic has definitely changed how people are living in their homes. For many buyers, the fourth bedroom is no longer enough. Now, the need is for five beds with at least one turned into an office. Both Microsoft and Facebook have introduced more flexibility in their employees work schedule. It is conceivable here in Alaska that many local companies will offer more flexible work schedules. Realtors are independent contractors and have always had that flexibility of working from, vehicle or the office.
Nationally, vacation home sales are also increasing. If you can work from home, why not also from a vacation home with a view of the mountains? And twenty-five percent of home buyers now prefer to live in a small town—think Palmer and Homer where homes sell in a handful of days. We may be the 49th state but we've learned over the last six months that what drives our market has less and less to do with the size of our PFD and more to do with what's happening in the rest of our country and the world.
I would be interested in hearing from you on the real estate market so feel free to email me. I prefer email as opposed to text.