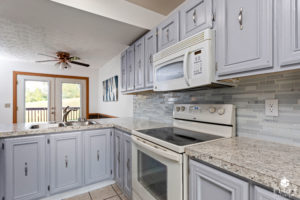 Last year, Mark Tuovinen, a Berkshire Hathaway HomeServices Alaska Realty Realtor, was hosting a $200,000 condo off Victor Road when he met Barbara Knapp, a community volunteer who teaches classes on citizenship and helps immigrant families with green cards and home ownership. Barbara came looking for Mark because she had several Sudanese families who had approached her about how to buy home. She knew the first step was to get them pre-qualified so she took them to Richard Mantyla at Residential Mortgage. She sought Mark out because she was having a difficult time finding a Realtor and came to an open house from seeing the ad in the ADN. She knew the challenge was to find a home for a lower income family that was also 3-4 bedrooms to house a large family. Immigrant families are not always used to our banking system and do not always keep their financial resources in them and are not used to the western world of credit and VISA cards. But with Richard's financial guidance and Mark's diligence even during the pandemic, together they have sold and closed four homes in the last 14 months. Words failed Mark when I asked him to describe the moment he gave them the keys to their first home. However, he did share that the most recent buyer came to the U.S. in 2000 and was born in a refugee camp and lived in it for her first 21 years. Now, she is not only a U.S. citizen but a homeowner, thanks to our American right to own property.
This story is not unlike many of ours. Mark's family came from Finland and England and owned their first property in Massachusetts in the late l800's. My Japanese American family first settled in Blythe, California and moved to Phoenix, Arizona, where they owned a grocery store, selling flowers and vegetables grown by the Japanese farmers. Many lost their properties during the internment. Today's near low interest rates enable many immigrant families to purchase their first home as well as an opportunity for move up buyers who have enjoyed the benefits of homeownership and Anchorage's 15% appreciation rate in the past 18 months.
Thank you all for your many years of readership. Before I was a Realtor and residential land developer, I was a poet. My goal was to make enough money so that I could quit work and write poetry.What I found, however, was that real estate was just as creative as putting words on a page and a lot more fulfilling, and less lonely, than sitting at a computer with a blank screen. Enjoy the long 4th of July weekend as well celebrate our independence. My next column will be appear on July 14th.