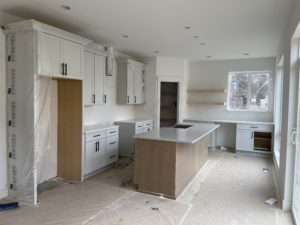 The first five months of 2021 has seen the continued fast pace of residential sales. Despite lack of inventory, unit sales increased by 25% when compared to the same time last year and total volume has increased by over 35%. Since the beginning of the pandemic, the average sales price has increased over 12% and is now $422,649 as reported by the Alaska MLS for the Municipality of Anchorage. Last week, Eagle River and Anchorage had a total of 103 pendings, including two over $1 million, continuing the never before trend of buyers' seeking resale and new construction luxury homes at a record pace. However, the bulk of single family sales is between $350,000 and $500,000 with a reported 51 sales this past week–the equivalent of 50% of all pendings. Currently, the Alaska MLS is showing an average of only a one month supply of inventory in the Anchorage bowl encompassing all price points. There is also continued pressure on the condo market, although not as significant as in the single family. The May active condo inventory is approximately one third less than in 2020 with only 233 currently on the market. The two year condo rate of appreciation since the beginning of the pandemic is 5%. Buyers can expect this appreciation rate to substantially increase in 2021 as builders grapple with short supplies and land use restrictions.
The strength of this market can be attributed to the now 'almost' historic low interest rates and a lack of inventory which always drives prices up whether it's for a new car or a computer. Just drive down Fourth Avenue and see the empty car lots and then try negotiating a discount. Or try ordering your favorite spinach wrap at Starbucks only to find out it sold out two hours before or worse simply not available and so you end up with oatmeal. Use that metaphor when you're thinking about home buying. There's very little out there that actually exists and in today's market its more than ever about compromise.
That oatmeal probably doesn't taste any better knowing that you are not the only one eating it when it comes to finding a housing palette to satisfy your needs, whether real or perceived. Low interest rates have made housing more affordable on a monthly basis and brought more buyers into the market, making for a very competitive buyer's market. Alaska has had very few foreclosures over the past five years which has always brought in only a dribble of opportunity for those buyers willing to take the chance of buying 'as-is, where is'. New home construction hit a low in 2020 and is hobbling along in 2021 but should see a slight gain before the end of the year. Many of the luxury homes are being financed by the buyer with a fee to the contractor, saving the builder and buyer the added cost of commercial interest.
On a nationwide basis, more aging boomers and seniors are electing to age in place by adding handicap rails and ramps to their existing homes whereas in the past they may have considered downsizing to an apartment, either here or outside. Alaska's current lack of state taxes continues to make it a desirable habitat for the retired. Older millennials are wanting to move out of their condo or apartment to the suburbs so their kids and canine family members can have a fenced backyard. These demographic trends are only going to become stronger and more influential for the next few years. Remember, the millennial market is stronger than the baby boomer market of the past decades.
Underlying all of these statistics is the lack of available land for development. The state of Alaska has 365 million acres and is more than twice the size of Texas. Unfortunately 90% of Alaska is in some form of public ownership. The remaining 10% needs infrastructure, including roads, water/sewer, gas and electric. Much of it is virtually inaccessible to land developers and builders due to the cost for those extensions. Yesterday, I read in the paper about a new trail from Seward to Fairbanks. I'm not going to win any friends by publicly stating that the money would be better spent in the offsite development of residential land to lower the cost of housing. Builders/developers cannot be expected to extend roads and utilities, whether shallow or deep, without the opportunity for lots and driveways directly adjacent to the extensions.
Thank you for the many referrals over the years. I am happy to assist you with your buying and selling needs. And I look forward to answering your real estate questions. My new email address is connie@BHHSalaska.com.