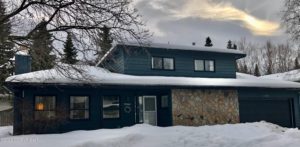 If you think the Anchorage residential real estate market couldn't get any tighter, think again. Historically, a balanced inventory to sale ratio is somewhere between a two to three month supply. Single family inventory just went negative in February with 173 reported sales vs. 157 active inventory. The same is true with condos. Eight-three sold in February vs. seventy-six units of active inventory. This is a dramatic turnaround for the condo market which has lagged behind single family in appreciation for the past few years.
MLS district 25 which encompasses DeArmoun Road and Potter Marsh had the highest average sales price of $677,510 year to date. There were no reported single family sales in Girdwood due to lack of inventory and only one condo sale so far this year which had a reported sales price of $526,000 with multiple offers. This was a 13.85 percent increase compared to last year at this time. Eagle River reported an 18.52 percent increase in sold inventory—up to 64 from 54. Eagle River also has a higher than MOA sales price of $433,105 compared to $427,335. The historic lag in Eagle River prices vs. Anchorage no longer exists due to the shortage of available land in the greater Anchorage bowl.
In the single family sector even the $800,000 to $1 million price range has less than a half month supply of inventory. And builders are now stepping up to build in that market. So for the first two months of this year, there have been 32 single family permits pulled compared to only 22 in 2021. The average price of the permit topped out at $708,056 not counting the lot value which means that any new construction home under a million is going to be less than fair market value. Anchorage builders who've stepped up to build in this tight and fluid market include Hultquist Homes with 5 permits; Colony Builders 4; Spinell 5. The owner builder category also had 5. The tight condo and rental market is a reflection of only 4 new multi-family units permitted compared to 48 in 2021. However, overall new construction, including residential, commercial and government totalled $70.5m compared to last year's YTD of just over $51.3m. You can expect both the residential and commercial market to continue on its upward trajectory as a result of predicted employment increases in transportation, medical and oil. AEDC has predicted 200 new jobs in transportation; construction +200 and professional and business services +400. Alaska has only a 700,000 plus population but is home to multi-billion corporations which can have a negative or positive impact on our housing.
With all this expected optimism as Alaska also gets ready for a multi-billion dollar infrastructure infusion, the question remains where is everyone going to live. Alaska has more than 663,663 square miles of land but the amount of fully private land is less than 1 percent because 99% of Alaska's land is owned by the government or Native corporations. The Municipality of Anchorage encompasses 1,961 square miles but 84.2% of that land is designated park land. Anchorage officials need to make some tough choices between park land and land for housing.