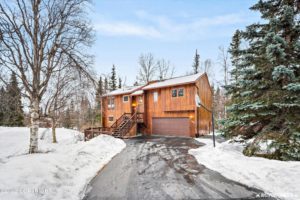 Despite the widely publicized increase in mortgage interest rates, it is still a seller's market with only 84 Anchorage single family homes for sale and 31 in Eagle River. However, despite this historic low inventory, sellers still need to take time to prepare their home for sale in order to receive the best offer. Aside from the usual spring cleaning, sellers need to declutter and rid themselves of that extra foot stool or odd casual chair in the living room. Space (square footage) is still the primary consideration in determining home values and marketability. Buyers need to be able to envision their own furniture in the home.
At Berkshire Hathaway HomeServices Alaska Realty, we strongly recommend sellers have a pre-home inspection which will identify health and safety repairs and have those items taken care of prior to putting the home on the market. This demonstrates to buyers that a seller has taken good care of the home. The seller will also be better prepared to understand the actual cost of selling their home if they pay for health and safety items. A seller's home inspection also has the opportunity to offset unreasonable demands from a buyer's home inspection. A pre-home inspection must be added to the real property disclosure required by the state of Alaska. However, the more information the seller provides the more opportunity a buyer will have to decide on how to make his offer. In addition to health and safety, sellers can expect the buyer to request service and inspection of fireplaces which has become more common since the 2018 earthquake. Also, the servicing and inspection of the HVAC and garage heater are standard requests. Having well and septic adequacy tests completed prior to listing can prevent sellers unexpected costs and delays in closing. In other words, the more preparation you do before putting your home on the market the assurance you have of an accurate seller's net.
Sellers can expect multiple offers. At BHHS we encourage full disclosure when we have multiple offers or expect multiple offers to come in. We recommend that the listing realtor inform all inquiring buyers' representatives what the deadline for submission is for offers to be evaluated. Not all offers are created equally despite an identical purchase price. Time has a dollar value. A thirty day closing can save a seller $1,000 or more, depending on their amortization schedule. Mortgage loan costs also vary and we frequently find mistakes on offers. For example, a VA loan requires the seller pay for the doc prep fee, attorney fee and escrow closing fee while a conventional loan splits these costs 50/50 between buyer and seller. Although appraisers seem to have kept up with increased values there is also the off chance that the appraisal may not appraise for the winning buyer's offer.
At BHHS Alaska Realty we recommend buyers submit their highest and best offer, without an escalator clause. A buyer who has been pre-approved through underwriting should receive more consideration than a buyer who has not been through underwriting. The underwriting approval provides more qualified assurances. As always, thank you for your many referrals.