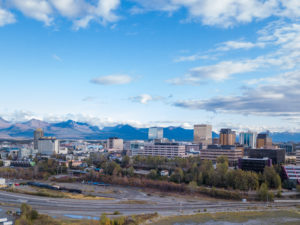 The only surprise in the Anchorage housing market is that the recent bump-up in the 30 year fixed rate mortgage didn't put a stop on the local buyer frenzy. In fact, it had the opposite effect as buyers raised into the market before another projected increase later this year.
March saw only 171 active residential units for sale—the lowest amount ever recorded for the month of March since 2014. In fact, the entire first quarter of 2022 also saw the same record low. And April doesn't look any better. There were 94 pending sales in the last seven days. Of those 20% pended either in coming soon or pended in one day. Sixty-five percent pended in three or 4 days and only 15% were on the market for more than five days.
The problem is not about the bulge of older millennials looking for a home to raise their emerging family. Arizona, Idaho, Washington can all build their way out of the millennial's need for new housing. But Anchorage can't do that. We are surrounded by a large and active military base, mountains, the inlet and tightening land use and building regulations, germinated in 2012. Although this administration and assembly are slowly loosening the stranglehold of regulations that make our development and residential building probably 12 to 15% more expensive than it really needs to be under the guise of health and safety, it is only part of the problem. Anchorage has come to the point in time that we have only surveyed and talked about for the past two decades and that is we are running out of available land to build housing. Unlike Dubai, we can't just manufacture or build more land. However, government or non-profit entities such as the Anchorage School District and the Mental Health Trust Authority do have land holdings that could be released for housing at a reasonable, fair market value to private development in a competitive bid process should they chose to do so.
An additional housing problem is that the vast majority of our housing stock was built in the 1970's and 1980's which makes our resale homes 35 to 50 years old. And has so many homeowners have come to realize, the cost of remodeling is almost one and a half times the cost of new construction. Why? Because remodelers have to work around a homeowner's schedule, snippy dogs, and whatever current building code requires an upgrade to the electrical panel for the kitchen which is the most expensive and popular remodeled room, along with bathrooms a distant second. After all, there's not much to remodel in a 10 x 10 bedroom except new paint and carpeting which is a 'refresh' and not a bona fide remodel.
Those housing experts who point to national articles about a housing 'bubble' are forgetting Anchorage's unique physical surroundings and regulations. We recently asked the Alaska Housing Finance Corporation if they would consider a special lower rate of interest for firefighters, teachers and police in designated areas that need housing. The answer was NO. It is an attitude like that from our public institutions, dedicated to helping make housing more accessible and affordable, that inhibits not only our housing needs but prevents the benefits of a more social and economic diversity in our community. Another non profit entity when approached about residential development on a property ideally suited for low density multi-family responded that they would hold the property for future commercial development, ignoring the fact that 'rooftops' always come before commercial development, whether it be a dry cleaner, coffee shop or clothing boutique.