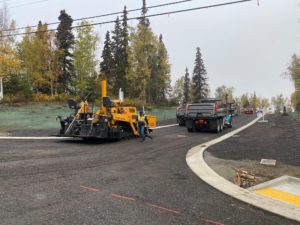 Anchorage's slow slide down into fewer and fewer new housing permits continues. So far this year there have been only 239 new housing units permitted, including single family, duplex and multi-family compared to 378 in 2020. No matter all the talk about the need for more housing, there doesn't appear to be a will or a way to make significant changes to title 21 and title 23 that will loosen the strangle hold on the ability to create more new homes from homeless to luxury lakefront. The only category holding its own is the single family permits which number 162 as of the end of September compared to YTD 166 last year. Duplexes have declined from 72 to 52 units but the big decline has come in multi-family units where only 21 have been permitted.
Despite MOA's 10,000 loss of population over the past decade, Anchorage's housing crunch has increased at a more rapid rate, putting the pressure on rising home prices and rentals. And not much has changed as to who is building and where. Anchorage's top single family builders still are Hultquist Homes with 33 permits; Spinell Homes with 23 and Merit Homes with l7 plus 6 duplex permits. John Hagmeier Homes and Colony Builders each have 7 permits. Michael Quinn Construction and Trevi Builders each have 6, along with Brick and Birch. All these builders deserve our real estate industry respect and support as they grapple with supply chain issues, rising material prices, lack of skilled labor and the pandemic. The MOA reported only 52 duplex units compared to 72 in 2020. Unfortunately, the MOA looks at building type rather than ownership so it is difficult to distinguish between a duplex for rent and one where both sides are sold separately. One trend that continues to emerge is the owner builder category both for single family and duplexes. Although further research is needed, this growing category usually is an owner who provides their own construction financing and hires a builder (hopefully with a residential endorsement) to build their home. It is also probable that a subcontractor may choose to build their own home.
The most popular new single family home community is Sandhill Reserve located at the corner of Sand Lake Road and W. 80 and which is marketed by BHHS Alaska Realty and for which I am the managing equity partner of the development. Sonoma Glenn has had 14 duplex permits and 9 single family permits. Both of these projects are located in southwest Anchorage along with Heatherwood at 12 permits. Resolution Pointe/Bluffs, Bruin Park and WestGate—all popular communities in the past few years are now built out.
In 2022 the lack of new home construction, whether single family, duplexes condos or multi-family rentals, will continue to put pressure on buyers looking to move up, move down or buy their first home. The older millennial who now has a family and the older boomer who's trying to figure out what type of home and where best suits their retirement years will be forced to make difficult living choices, not all of which will be related to the price of a home. The interest rate on a 30 year mortgage is more costly than the purchase price of any home and with a projected increase of at least a quarter percent occurring during the early part of 2022, the cost of home ownership is bound to become more expensive.