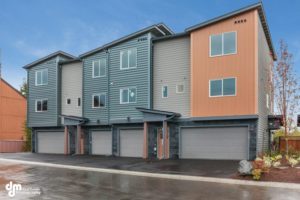 According to the Community Associations Institute's report published in 2016, 68 million Americans or the equivalent of 21% of the U.S. population live in a common-interest community. Fifty-three percent are Homeowner Associations and forty-four are Condominium Associations. Three percent are Cooperatives. Although it is difficult to determine the exact number of associations in Alaska, a public search of state records identifies 480 condo associations; approximately 420 homeowners associations; and 980 owners associations for a total of 1,880. That's a lot more than I expected to find! And with Anchorage's diminishing availability of residential land, condo associations, in particular, will continue to increase as Anchorage is forced to become a higher density community. So far this year, 908 buyers have purchased a condo with an average sales price of $208,459. Many of these buyers are first time homeowners and are unaware they are purchasing one of the most sophisticated and complicated types of property ownership.
The recent 7.0 earthquake has brought to the many owner misunderstandings and issues related to who is responsible for repairs and damages. The answers are in the public offering or resale certificate but, frankly, most buyers don't read the two or three inch statement they are given to approve prior to closing. But a lot more owners are reading them now as a result of earthquake sheetrock cracks, broken windows, damaged door jams, et cetera. And condo owners are finding out there are significant differences in the description of what they have purchased and what their owner's insurance and the HOA insurance covers.
Not all HOA insurance covers the building structure if it is a site condo which by definition the building is enveloped in a defined air space. However, if you are not purchasing a site condo, you can expect the HOA to cover the structure of the building which includes roof and foundation and any party wall in a two or more attached configuration. One area of potential disagreement is cracked or broken windows. If a neighbor's kid throws a baseball through your window, you can expect to replace it yourself. However, if an earthquake cracks your window as a result of the movement of an exterior wall, you may have an insurance claim to submit to your HOA. But not always because unit boundaries differ per community. As you can see it gets complicated, and so the best thing you can do as a condo owner is read your offering statement, read your declaration, read your personal insurance policy and your HOA policy.
However, the important thing you can do as a condo owner is discuss with your insurance agent the addition of loss assessment insurance to your policy which will help mitigate any special assessments from the association as a result of an earthquake or any other casualty. That's what I'm doing as a condo owner.