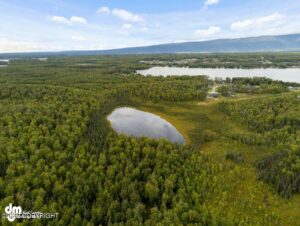 According to the Department of Transportation approximately 60,000 vehicles cross under the Muldoon overpass heading north out of Anchorage each day. Some travelers exit at JBER, Eagle River, Chugiak, Peters Creek or somewhere in between but 29,000 head to the Mat-Su Borough. This population migration has contributed to making it the fastest growing borough in Alaska. The March Alaska Economic Trends report provides a compelling description of Anchorage's recent loss of population of 12,000. According to the report, 5,000 of Anchorage's lost population moved to the Valley. Anchorage, along with the rest of the nation, has suffered a diminishing work force of aging boomers and loss of millennials but meanwhile our neighbor to the north continues to buck this Anchorage out migration tend.
Mark Twain said "Buy land because they don't make any more of it." And that's what Mat-Su has—all 25,258 square miles compared to the MOA which has only 1,947 square miles. The Mat-Su Borough also has thousands of lakes and almost everywhere you look a beautiful view of the mountain ranges. Meanwhile, Anchorage remains hemmed in by its mountains, Cook Inlet, JBER and with more parks and trains than any city in the nation. Anchorage, like all of us aging boomers, have passed our prime. It has lost its vitality while a new upstart to the north continues to attract new retail, medical and hospitality opportunities and HOUSING.
The driving force behind all those commuters is housing where you can still buy an acre of land for under $100,000 and build a very nice two story or ranch with a triple car garage for $600,000. The pandemic's work from home and even the partial in office/only two to three days a week plus more paid holidays makes the commute more acceptable, particularly for North Slope workers and airline employees who can and do live anywhere.
It's the 'million dollar baby' to use an old Clint Eastwood title which is what the new Anchorage home on the hillside has become. But in Wasilla or Palmer where the lots are at least a borough acre (30,000 square feet) or larger and the time and cost for building a new home is cut by approximately 20% due to faster permitting and private inspectors seem more doable and then there are the mountains which are everywhere you look. Driving down KBG road that is getting a stop light at Endeavor you can understand why they call it a Valley surrounded by mountains. I confess I used to drive thru Wasilla on my way to Big Lake for years and never stopped except to buy groceries at Carrs, way before Fred Meyer opened and became a highest grossing flagship for Kroger. Now I am in the Valley at least once a week marketing Cedar Park, just five minutes to Fred Meyer's, an 83 lot subdivision in Palmer and a new home community in Wasilla, Valley Ridge, just a five minute walk to Lake Lucille Park.
There are currently 129 homes for sale in Wasilla which amounts to just over a one month supply with an average list price of $406,000. Palmer's year to date sold value is $448,000 and it has had a 46.4% increase in sold value since the pandemic. There are also some finished new home opportunities as builders work to sell their winter inventory before the spring building season begins. A sweet spot in both the Palmer and Wasilla market is the $600,000 price range where there are only six homes for sale in Palmer and in Wasilla. These homes are priced well below the cost of a new home to be built in Anchorage for above $750,000, if you can find a completed one or a builder to do a presale. The threat of even higher interest rates will put a damper on the Anchorage new home market as well as rising costs of construction. Buyers with cash will have the greatest opportunity.
Visit me this Sunday from 1-4 pm in Anchorage's most popular new home community Sandhill Reserve, located on the corner of Sand Lake Road and W 80th.