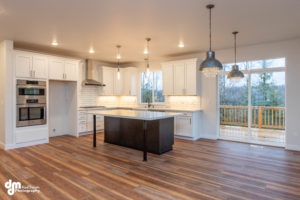 The kitchen will always be the heart of the home, especially during the holidays, but its design and function continues to evolve. Over the decades, we've had the galley kitchen, the L shaped kitchen, the peninsula, the island, then the larger island with a sink/dishwasher or stove top. And today's island has neither one of those utilitarian appliances but instead has become simply a gathering place for family and friends. And the bigger the island the better, stretching to ten feet with perhaps a bilevel level quartz slab and a wine rack at one end. The island has, without a doubt, replaced the breakfast nook and table. To tell you how important the kitchen has become the International Builders Show is now both the Home Show AND Kitchen Bath Expo. Even your entry level kitchen needs to be designed so that you can stand in front of the dishwasher or refrigerator door! Without bumping into a cabinet door. The kitchen that works best for cooking has its appliances arranged in a triangle shape. Remember, the size is not as important as the function. Kitchens used to be in the back corner of the home. Now, they are front and center surrounded by informal living areas.
If you want to update your kitchen, add some knobs and pulls. Tear out your backsplash and install subway tile with a neutral grout. Microwaves are no longer above the stove. Instead they are in a built-in shelf or cabinet. Under the counter? No adult wants to bend over to heat their hot water and that location is probably not safe for small children. Everyone wants a Costco size walk-in pantry but if your home doesn't have room for one, then the corner pantry in that hard to reach area even with a lazy susan works almost just as well. The corner or walk-in pantry is actually less expensive than that fancy cupboard pantry with pull out selves and door rack.
Buyers and remodelers can spend tens of thousands of dollars adding pull-out drawers, fancy spice racks, cookie sheet cabinets, cook book shelves, fancy wine racks but before you spend all those extra dollars, my suggestion is to stick to the basics if you are on a budget: double ovens, an attractive hood above a five burner gas stove or cooktop, quartz countertops, tile backsplash, an extra large window above the sink down to the counter, and some interesting light fixtures. I'm not fond of the traditional three pendants above the island. When I remodeled several years ago, I took down five pendants hanging above my bi-level island and as many above my dining room table. Cans, LED lights or a single interesting light fixtures keeps the kitchen from appearing too cluttered.
But the best part of any kitchen is the savory recipes and sweet treats you make during the holidays. For me, that's the sourdough bread stuffing, the Scharffenberger chocolate brownies with roasted hazelnuts and store bought pumpkin pie with real whipping cream sweetened with sugar and a teaspoon of vanilla.
Thank you for reading my columns over the past few decades. Before I was a realtor I was a writer and so I have the best of both worlds.
Happy Thanksgiving!