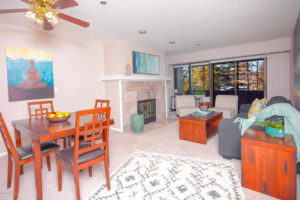 Last month there were only seven condos for sale in Anchorage. On May 17, there were no Anchorage condos for sale less than $274,900 and only a total of five condos for sale above that price point. Yesterday, there were zero condos for sale in Palmer/Wasilla. And in Eagle River there were only three condos for sale. Today, condos are selling for full price with an average day on the market of 15 days – just enough time to have multiple offers.
This severe lack of 'affordable' inventory is important because with rising interest rates and the high cost of new construction, the resale condo, whether it's an apartment style with an interior corridor (stack); a single family site condo enveloped in its own airspace; an attached duplex townhouse; or a hard to find ranch condo, is for many buyers the only gateway to home ownership.
Unfortunately, over the past twenty years, most of the residential land zoned for low density multi-family (R2, R2M, R2D) has been absorbed with duplex style condos not all of which have aged well or survived the 2018 earthquake without considerable damage and necessary structural repair. Even R3 and higher zoned densities were dumbed down for the popular duplex condo. It is true the vast majority of buyers prefer to park their car in a garage and walk up only a couple of steps into the main living area just like a single family home which is the style in which many duplex condos were built. Now, unfortunately, due to our lack of land, that style is becoming less of a possibility. Let's think back to the 1970's when there were carports. Then, came the single car heated garage; then the double car garage and now almost every single family home buyer wants at least a triple car garage. Maybe, just maybe, should go back to the carport for the sake of affordability, at least in the condo market.
It is a myth that only millennials are condo buyers. The aging boomer is looking to downsize from their hillside family home. Perhaps they are even considering having an Anchorage condo as a second home. Slope workers need a place to sleep between flights to their home base in the lower 48. Traveling nurses can own a condo and easily rent it to their peers, assuming the homeowners association allows less than a 30 day occupancy. So can airline pilots or traveling executives. Our south central population is on the move with more options for where and how they live than ever before.
Condos are a good first, second or interim step into home ownership. Anchorage, Palmer, Eagle River, Wasilla all need more condo development. Rental vacancies are hovering around 2.4% in most south central communities. It is going to be cheaper to buy with FHA/VA/AHFC loan programs than rent at $1,800 per month. According to Madona Rhine-Stack, Mortgage Originator at Alaska USA, with 5% down and utilizing a five year adjustable rate mortgage at 4.375%, a condo buyer's principal, interest, taxes and insurance payment is $1,748. Just about the same cost for renting a nice two bedroom apartment in a convenient location—without a carport.
Thank you for your many referrals, please feel free to give me a call over the holiday weekend if you are interested in talking about real estate.