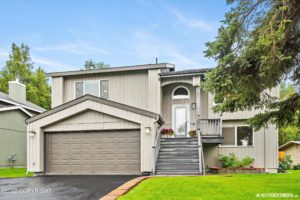 This past week I saw in MLS several price reductions, open houses and bonuses to selling licensees—all of which seemed like a return to normal pre-covid marketing activities. Despite the continued shortage of inventory and the 5% plus mortgage interest rates, I can't help but believe we may have reached a new post covid normal. August is the month when many Alaskans begin to wonder out loud if they really want to spend another cold dark winter here. I hear this comment from potential owners who are considering selling their primary residence, especially since the 20% plus increase in value since covid hit. A second home in Hawaii, Arizona or Florida seems really attractive as our days grow shorter homeowners begin tho think about equity extraction. July homes for sale were 436 homes – the highest inventory of the year for any month. I can't help but believe some of that inventory was prompted by Alaskan boomers' decisions to move to a warmer climate.
The mortgage rate jump up slowed closed sale to 264 in July – almost a 50% decline from a year ago. The good news out of that is that more inventory and fewer sales will give buyers some relief from the pressurized sale environment of the past two years. Still, competition will remain stiff for any single family homes under $500,000 where there is less than a 1.5 month of inventory. Buyers looking for a single family home on a half acre or acre lot under $350,000 really have no choice to but to head to the Valley.
However, number of available homes can be deceiving, particularly in the $1,000,000 price range. Today, there are 21 million dollar plus homes for sale. However, between $1 million and $1,500,000 there are only 15 active listings. But taking a closer look, two of those are to be built (for some builders an unfulfilled wish) and three are older than the median age of 42 years. So even in the million dollar plus range, inventory remains short.
In today's market, buyers need to get beyond the search for the perfect home. A home is not just where you live and dream. It is your largest financial investment. This past weekend, a colleague and I walked every street in Fairview. We stopped and admired a large contemporary building, less than 15 years old. My colleague asked the young couple getting their gear out of their SUV if they were the owners. They weren't but said the owners had built the triplex several years ago and lived in it a couple of years before turning it into a rental. That's good advice for first time buyers whether it's a first purchase for a duplex, triplex, four plex or a condo. You're first home is not your forever home but it enables you to enjoy home ownership and allows you to invest in our community.
Thank you for reading my real estate column over the years and for your many referrals. Give me a call to chat more about the real estate market, 907-229-2703.
P.S. Someday I will write my story about Girdwood but not today.