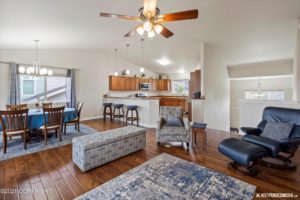 Anchorage's average sales price rose to $428,313 for the first half of 2021 with a 7.95% increase. Even higher was May's average sales price of $458,580 which was the highest monthly price since January 2013. No crystal ball at the end of 2020 would have predicted such as increase. When recently asked the question about why all the stories about multiple and $100,000 above asking price offers, the answer comes down to three factors. First, despite yesterday's bump in mortgage rates, they are still at an almost historic low rate. Second, Anchorage and the rest of the nation have seriously been underbuilding for the past ten years due to tightening lines of building and land development credit, and, perhaps most importantly, changing demographics. Millennials are marrying, having babies and want to live in a single family home. All toll, the first half of 2021 produced a 46 percent gain in closed volume and a 30% increase in the number of single family transactions in the MOA. Even the condo market is experiencing an increase in value of almost 6% since the pandemic, making it one of the best buys on the market. A young shop owner recently told me about a 3 bed, 2.5 bath condo with a double car garage he purchased for his family under $250,000. And the best part was it backed up to a greenbelt. This home cannot be built again for less than $375,000. A smart buy for a young family.
But, inflation is not just in housing. The cost of used cars shot up 23% in April. In June it increased an additional 10.5%. A McDonald's hamburger in Anchorage now costs $4.98. Anchorage ranks 21st as one of the most expensive cities in the first quarter of 2021 but what's interesting to note, all of the other cities have a much larger population. New York is almost twice as expensive as Anchorage. Meanwhile, the windy city of Chicago is comparable to Anchorage's cost of living. I remember having a charcoal squid lunch and a delicious fig cake for dessert at their Art Institute. Definitely on par with the Petrossian breakfast in New York but considerably less expensive!
So the question is 'Is this for real or just a housing bubble? My best guess is it's for real. An increase in interest rates doesn't create more housing although it makes it more expensive on a monthly basis. The housing demand is here and will continue. As the cost of housing increases, along with a raise in interest rates, our bubble may get smaller, or tighter, but the demographic bulge is too big to deflate the housing market. Today's buyers are here with serious intent—marriage, family, work from home options that the pandemic simply exacerbated.
So whether it's a downtown condo in Anchorage, an acre lot in Palmer, a peony farm in Homer, or work force housing in Girdwood or somewhere on the rail belt, Alaska still ranks as one of the best and cost effective places to live. Plus, we love our furry dog families. An Anchorage visit to the vet is $72.50 compared to $95.00 in Plano, Texas.
Want to know more about the condo market and the impact the South Florida tragedy will have on condo development and Homeowner's Associations. Berkshire Hathaway HomeServices Alaska Realty will have a online seminar with a chat room on Thursday, July 29th at 1 pm with Jim McCollum, Attorney; HOA Manager Natalie Smyre and myself. Sign up with Lindsey at 907-646-3600. A $15 registration fee may be paid by credit card and will be donated to Anchorage's first responders. Real Estate Licensees will receive 3 elective credit hours.