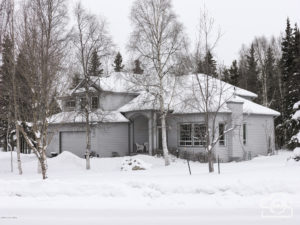 Alaska's population fell in 2019 to 731,007 which is 8,600 below the peak of 739,649 people in 2016, according to the Alaska Economic Trends February 2020 report. The major factors affecting this decline is the number of people moving out of Alaska and fewer births. We all know aging boomers who are searching for warmer climates, especially today with this sudden snowfall, but the main driver for our decline in population is that the number of births has fallen by 15 percent over the last three years.
So what's interesting to consider is how these two population trends will affect our housing styles in the next few years. With a lower birth rate, how important is it to have four bedrooms which has been for the past twenty years the must have bedroom count. Maybe three is just enough as long as you have that first floor flex room. And what do boomers want in housing? Ranches, yes, but with a three car garage? After all, we know downsizing boomers have lots of stuff that their adult children don't want, including china, silverware, hutches full of mementos, and the list goes on and on. Boomers are overwhelmed trying to decide what to keep, give away or drive up to the Good Will.
But what's not going away is the three car garage. According to Alaska MLS, there were 131 homes built between 1970 and 1999 with a three car garage that sold in Anchorage. But, there were 208 homes built between 2000 and 2019 sold with a three car garage and 23 homes with a garage that holds four or more cars. After all, garages are not just for cars. Many are used for gyms, yoga studios and wood working shops or just fill in the third bay with your favorite recreational equipment.
Alaska is not alone with an aging population and national birth rate that has trended downward since 2007, according to Alaska Economic Trends. But what is most noteworthy is that Alaska's 65-plus age group grew by 4,200 people in 2019, reaching 91,278, and is projected to top 136,000 by 2030 which is obviously less than ten years ago. So, Anchorage and Alaska's builders need to figure out how to build to that aging marketplace. And one way is the JADU, a new housing concept out of California which limits an ADU to the interior of a single family home. No more detached garages with a large apartment above shadowing a 50 year old bungalow. The JADU allows for the mother-in-law to have a private kitchen/bath/bedroom/living area and a single car garage with no more than 700 square feet attached to the main home. The structure functions like a single family home and is less expensive than a backyard structure with separate utilities.
Anchorage is home to approximately 40% of Alaska's population. Last week's inventory of single family homes for sale was only 371 while pending sales increased by 47.9% compared to the same time a year ago. Anchorage's housing crunch is real despite our 0.9percent loss of population last year. Just ask your co-workers, family or friends who are shopping for a new home.