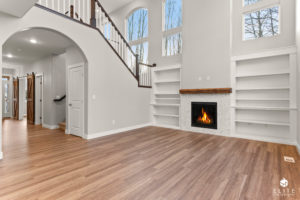 If you believe that homeownership is the single best way to build individual wealth, now is the time for you to buy a home. Due to the concern over the economic impact of the coronavirus, this week the Fed cut their rate by half a percent, making long term mortgage rates fall to near all-time lows. Over the past year, mortgage rates have fallen about a full percentage point and this week's drop has put home ownership within reach of hundreds of more Alaskans. A one percent drop in interest rates makes the same-priced house from a year ago more than 10% less expensive today in monthly mortgage payments. Alternatively, it also means that you can afford a mortgage expensive home.
Erich Heinrich at the local Wells Fargo Home Mortgage has a VA 30 year fixed rate mortgage at 3.125% and a 15 year fixed conforming loan at 2.875. Some national investors expect mortgage rates to fall even further. After all, this is an election year and rates are generally lowered the closer we get to a presidential election.
But there is a caveat to these new low mortgage rates, particularly for Anchorage home buyers. These almost historic low mortgage rates are going to create a competitive buying environment. With more buyers qualifying for homes, you can expect multiple offers. Buyers need to be well prepared by having a current 90% letter. If they have a home to sell in order to purchase a new home, they should seriously consider putting their existing home on the market before making an offer on a new home and endure the inconvenience of a temporary rental home or living with family and friends so that they can qualify without having the contingency of selling their home. Buyers might also consider talking to their lender about qualifying with a lease on their existing home if they don't need to make an equity extraction. Take the advice of a mortgage or credit consultant on how to increase your credit score. Many mortgage rates are contingent upon a buyer's credit score.
The lack of local inventory is real, particularly under $500,000. Every week for the past six weeks in 2020, there has been significantly more pending sales than for the same time period in 2019. For example, last week there were 59 pending sales reported in MLS compared to 33 in 2019. The week before there were 43 compared to 29 and the week before that 39 compared to 53. I expect this trend to continue due to the mortgage rate drop. Discuss this with your realtor to learn how you can be the first notified when a new home comes available in your designated price point and geographic location.
Lower interest rates also mean an opportunity for homeowners who want to stay in their current home and do some remodeling. A HELOC loan which stands for home equity line of credit will have lower rates as a result of the Fed cut. It may also be a time to consider a refinance. However, keep in mind a refinance may lower your monthly mortgage payment but all mortgages are stacked with interest first so if your intent is principal reduction you may want to think twice about that refi, particularly if your mortgage is more than 10 years old.