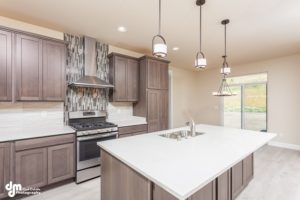 Thanksgiving is one of the few days in the year when homeowners actually use their dining rooms. For the rest of the time, most of us have become more casual and eat around the kitchen island. Gone, too, is the formal living room, replaced by the great room in contemporary plans. But, in buyer surveys the dining room still emerges as one of the most desirable 'must haves', particularly for General X and Y families who hold on to their childhood memories of holiday meals. Even downsizing boomers and seniors hesitate to give up their dining room. How big that space needs to be usually depends on the size of the table and its' shape. Popular round tables require a wider width. In today's market a dining room that is 10 by 12 would be considered adequate for most holiday dinners. That's a cozy ten or twelve seats around a rectangular table. You would be surprised how often a builder's plan gets pushed and pulled to accommodate a family table, hutch and side board.
However, the dining room isn't the only room that gets more attention during the holidays. For days before slicing that perfectly roasted turkey, it's all about the kitchen and appliances. Most new ovens will accommodate a 20 lb turkey but you need more than one oven for the dressing, roasted brussel sprouts or that famous green bean side dish. Double ovens is probably the most asked for upgrade in a new home kitchen. There are now 32-36 inch stoves and stove tops with five burners so those big commercial Viking ranges aren't nearly as necessary as in the past. But if there's more than one cook, a 42 inch cook top alleviates a lot of bumping elbows. The MOA requires a minimum of thirty-six inches between counters and islands but what cooks really need is at least a forty-two inch space to maneuver around. If you're planning a new home or a kitchen remodel, consult a kitchen designer. They are like occupational therapists. They can tract a cook's movement and design around it in the most efficient way possible. The triangle concept between the kitchen, fridge and stove remains a good place to start the planning process. Even in million dollar homes, I've seen designs where when you open the dishwasher, you can't stand in front of it because the island is in the way. Walk in pantries are also a must have in any home over $500,000 and you should make sure the builder includes adequate lighting.
Kitchen designs have changed significantly over the past thirty years. First, there was the galley kitchen. Then, it opened up to a U-shaped kitchen. Then, came the small center island in the middle of the U-shaped kitchen. Now, the most contemporary kitchens are wide open with a detached island that is all one height without an appliance in the middle. It is like the galley kitchen without the walls and usually even bigger. It's where the family gathers at the end of a long work day except on Thanksgiving when we all sit down around the dining room table to give thanks that we are fortunate to have family, friends and a more than enough to eat.