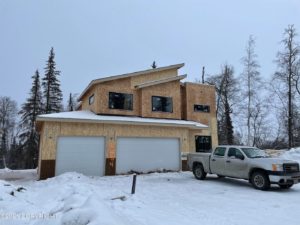 With less than a one month supply of single family homes for sale in the Municipality of Anchorage, frustrated buyers wanting to take advantage of historic low interest rates are exploring new construction. However, with few speculative homes being built, buyers are having to turn to the daunting process of committing to purchase a home that doesn't yet exist. Over the past few weeks, I have had several inquiries from realtors and buyers wondering what the process and financing options are for a 'presale' which is a commitment to purchase a home from a plan on paper.
Without a doubt, with approximately 90% of realtors who never sell new construction according to national statistics, there is a lack of knowledge in the real estate industry on how to go about the process of assisting buyers in this specialty segment of the market. Like selecting a resale property, the first requirement is to determine the buyer's preference for location. Proximity to schools, work, friends all play a role in selection of a location whether its southwest, southeast, hillside or Eagle River—locations where you are likely to find available lots. Not all lots are created equal, so the next elimination process is to determine the type of plan you want. If you desire a walk-out lower level, you need to select a sloping lot. Moving dirt on a flat lot to create a basement adds to the cost of the build and excavation and/or fill haul in has no additional value when it comes to the new home's appraisal. Buyers should never reserve or buy a lot without first walking it with a builder or a land surveyor. I frequently get asked for soil samples on lots. Developers do not dig test holes on lots. Rather, developers are required to provide soils testing for road construction which they can make available to a selling realtor/buyer. Most lot sales are written with a due diligence period while the buyer shops for a builder and during that time the lot owner will most likely agree to the buyer's representatives entering for soil testing if needed.
A lot reservation is usually for 30 days with a nominal refundable deposit while the buyer searches for a builder and plan. My buyer's advice is usually two fold at this stage. First, select a builder who is already building nearby. He is most likely familiar with the soils conditions and covenants, codes and restrictions for the community. If he is building nearby, his subs and superintendent don't have extra travel time. Second, try to find a plan that the builder has recently built. He knows how much that plan will cost and is less likely to add a larger contingency. Most builders have a CAD system or a home designer in their back pocket who can make adjustments to plans without adding too much 'design' costs. Plans found on the internet are virtually useless because they all have to be redesigned to meet Alaska's building standards. Conceptually, they may be a buyer's dream plan but designing from scratch will add anywhere from $5,000 to $10,000 to the cost of a home.
Most builders will give buyers a fixed price for a home to be built under $1 million. The caveat for that fixed price may be a well allowance or in today's world, an escalator for lumber if prices take a big hike. Buyers in this price point should be prepared to provide a prequalification 90% letter and proof of funds for the down payment and closing costs. Once the floor plan is created; the plot plan showing the relationship of the foundation to the lot lines; an agreed upon detailed list of allowances for interior selections, the buyer will be required to post somewhere between 3 to 10% of the purchase price as notice to proceed funds. These funds are non-refundable and disbursed directly to the builder. They are returned only if the builder fails to perform. The NTP funds are applied to a buyer's closing costs and/or down payment at closing.
Buyers seeking to have built a custom home over $1 million, should plan on providing their own cash funds for the home construction or secure their own commercial construction financing. In these circumstances, the builder works for a monthly negotiated fee usually based on a cost plus basis.
Whether you are a realtor or a buyer, please feel free to contact me with any questions at 907-229-2703 or email me at cyoshimura@gci.net. Thank you and GOOD LUCK!