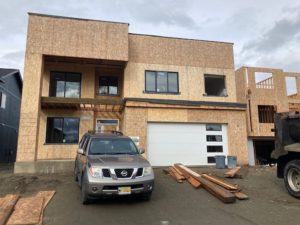 And the answer is YES, despite the fact national homebuilder confidence has fallen for the 8th straight month. According to a recently published report by NAHB, 69% of builders reported higher interest rates as the reason behind falling housing demand, the top impact cited in the survey. And for the first time since May 2020, most builders now view the homebuilding environment as poor. NAHB Chief Economist Robert Dietz said, "Tighter monetary policy brought on from the Federal Reserve and persistently elevated construction costs have brought on a housing recession. However as signs grow that the rate of inflation is near peaking, long term interest rates have stabilized which will provide some stability for the demand side of the market in the coming months." If you want to hear Dietz view in person, he will be the guest speaker at the Housing Economic Summit sponsored by Anchorage Home Builders and Berkshire Hathaway HomeServices Alaska Realty on October 5th. Call Lindsey at 907-646-3600 or Anchorage Home Builders at 907-522-3605 for a reservation.
And so what about Anchorage? There have only been 112 single family permits compared to l06 for the first six months of 2021 last year. Give or take a handful of permits, you could simply say that single family homebuilding has definitely taken a pause, despite the best efforts of the current assembly and administration to loosen up and fine tune some building and planning regulations. The popular duplex units remains the same with only 17 new units permitted compared to 16 from YTD last year. The only additional Anchorage housing units comes from multi-family with 168 units compared to 15 last year. This higher density multi-family trend is sure to continue as the lack of single family land becomes virtually non-existent except for mountain tops.
Despite higher mortgage rates, buyers are still interested in a brand new home as the Anchorage median age for an existing home is 42 years. But hardly any buyer wants to wait a year for their new home to be built. The smart builder with adequate financial credentials should drop foundations now before the cost increases $5,000 to $7,000 for heating and tenting a winter build. Anchorage continues to have a serious shortage of residential inventory which can only be compensated for by new building. Yes, mortgage interest rates have increased along with the rate on a builder's commercial line of credit. But the simple fact is we lack housing of all styles, shapes and price points. We have on average less than a two month supply in any price point up to $700,000. A closer look at that inventory would also tell you that homes built in the eighties and seventies now make up a substantial part of that available inventory and if the current owner hasn't been timely and attentive on maintenance and repair items, buyers are looking at a substantially higher investment than the purchase price they paid for their 40 year old home.
So not only is it a good time for builders to drop foundations, it's also an excellent time for existing homeowners to sell. Values in certain neighbors have not fallen. In fact, only in Downtown Anchorage, East Tudor and Abbott Road and, surprisingly, Girdwood, have values fallen on average 6.61 percent compared to last year at this time. The average price of a sold single family home in Anchorage is now $457,482, an increase of 7.86 percent.
As always, thank you for your many referrals.