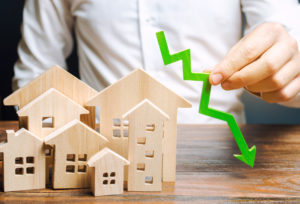 Historic low mortgage rates are not just for the single family/condo home buyer. Mortgage rates are also a major factor in profitability for the small investor who chooses to begin with an owner-occupied property. According to Madona Rhine-Stack at Alaska USA, the Alaska Housing Finance Corporation (AHFC) has owner occupied multi-family rates as low as 2.625% for 3-4 units. You might also be surprised to know how high the maximum mortgage amounts are. FHA mortgage limits are $645,950 for a three-family and $802,800 for a four unit. For a HUD 184 loan, Alaska Native required eligibility, a 4 unit has a maximum loan limit of $979,968. Conventional loan limits are even higher. A three unit loan limit in Alaska, Guam, Hawaii and the U.S. Virgin Islands is $1,272,750. A four unit loan limit is $1,581,750. Owning a multi-family unit before purchasing your single family home/condo allows you to leverage your down payments as an owner-occupant for both properties as long as you live in the first property for no less than one year.
However, there are many considerations to take into account before jumping into the local rental market as an investor. Most of our multi-family properties were built in the 1970's and 80's which makes them 40 to 50 years old. AHFC, which is the major funder for the small investor, does take into consideration the age of the property and the need to establish funds for maintenance and reserves. AHFC's required replacement reserves include funds for mechanical, windows, floor coverings, appliances, et cetera. Their formula for replacement reserves amounts to $350 per door per year, capped at five years. All lenders require a 9% management fee included in any non-owner pro forma, whether or not the property is self-managed by a non-occupied owner. AHFC's loan program is not credit score driven. In other words, they give more consideration to underwriting the property and not the buyer. Even a buyer who has had a derogatory score on a mortgage may receive financing with a higher down payment. However, like any mortgage a credit score of 740 helps lower the rate as well as a lowerdown payment. Minimum down payment requirements for non-owner occupied properties are between 20 to 25%, depending upon credit worthiness. According to Paul Hansmeyer at Alaska USA, local appraisers are using only a 6% vacancy when calculating a pro forma.
Long-time local investor, Lottie Michael, who now heads up the Commercial Division of Berkshire Hathaway HomeServices Alaska Realty, believes multi-family investing is the logical way to begin an investment portfolio. Although multi-family investing requires some homework, the advantages of today's low interest rate financing and tax incentives is well worth the effort. Properties with 5 or more units is considered commercial estate by most lenders. Those interest rates, according to Hansmeyer, are today between 5-5.5%, depending upon the property and investor. Scaling up a real estate portfolio, according to Michael, is often times easier with multi-family properties. And Lottie has some words of advice, "Know your limitations. When I started investing, I had no spare time with two small children and a full-time career, so I would only buy properties within a 3 mile radius of my home and office. I knew I would ignore vacancies if the property was out of my 'zone'.