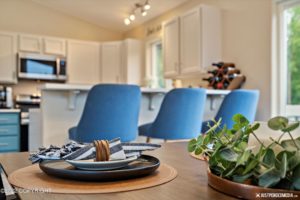 Mortgage lenders and their back-end investors are reacting with aggressive new and revised loan programs to help potential buyers disappointed with higher interest rates while they struggle to find an affordable home. Despite the increased 5.75% for today's interest rate for a 30 year fixed rate mortgage, buyers are still competing with multiple offers, ill defined escalators and seller bonuses to accept an offer WHEN IT IS presented. All this according to Madona Rhine-Stack, NMLS# 204026, a senior mortgage originator at Alaska USA Mortgage Company. License # AK157293.
There is good news for buyers bogged down with medical debt. Buyers who have been denied mortgages due to a low credit score as a result of medical debt collection now have some relief. The three credit reporting agencies have all agreed that effective July 1, 2022, paid medical collection debt will no longer be included on consumer credit reports. Also, the time period before unpaid medical debt will appear on a consumer's report will be increased from six months to one year. If you or someone you know have been denied a mortgage as a result of medical debt, please connect with your mortgage lender to see if these changes will help you increase your credit score. Medical debt is one of the major items that knock down a buyer's credit score.
And there is other qualifying assistance. AHFC, our state sponsored mortgage lender, now permits non-occupying co-signers on certain properties and loan programs. This opportunity is particularly helpful for first time home buyers trying to enter the market with a boat load of student debt. Now, a co-signor who does not have to live in the home and can also be from outside of the state can assist their young family members seeking to buy their first home.
Freddie Mac, an important and influential government sponsored mortgage buyer has announced that rental income from a 1-unit primary residence can be used for qualifying for a purchase or a no cash-out refinance if certain conditions are met. One important requirement is that the ADU must comply with zoning and land use regulations and an appraisal report must be submitted to support the ADU's marketability and include at least one comparable sale with an ADU that is already closed.
And for the more affluent homeowners considering a second home, the down payment is now 10% rather than 20% which was the standard for decades. However, there is a catch. The second home must be at least 50 miles from the primary residence. Alaska has over 3 million lakes so you don't need to drive too far to find lake frontage. And then, of course, there is always Homer which even on a rainy day has a charm all its own.
These are all new mortgage opportunities that will help stabilize the market shifts with higher rates and a down shift to 6% fewer closed sales so far this year. Although initially discouraging to buyers, a 5.75 rate is still well below the national average. I remember when rates were 18.39% in 1981 when I sold my first house. And in 2000, an 8.54 rate seemed like a bargain. Buyers are adjusting their expectations and making compromises in square footage, bedroom count and garage space. But even with adjusted and lower buyer expections and new loan programs, the frustration is still there. There is very few houses to purchase. This week only 275 active MLS homes on the market. That number is a total of all price ranges.
For more loan information, please contact Madona Rhine-Stack at 907-830-0064. And again thank you for your many referrals. I am proud to be the broker/owner of Berkshire Hathaway HomeServices Alaska Realty and a residential land developer but what I enjoy most is helping buyers and sellers with their housing needs.
PS. One more interesting mortgage info. USAA is no longer financing condominiums. They're a popular lender in the nation but I am sure concerned about liability as a result of the Champlain condo collapse in Florida and other high rises built on shifting sands.