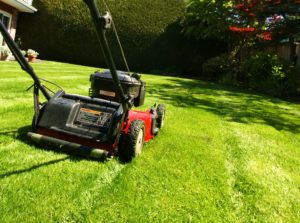 Because you won't need a lawn mower! Or a snow shovel! Exterior maintenance and lawn care are done for you by the Homeowner's Association and property management company. Yes, there is a fee for all that worry free living, that 'lock and leave' mentality but it's a small price to pay for your freedom from every day outdoor maintenance. I hear those comments more and more from boomers but also from many millennials who would prefer to climb flat top on a sunny afternoon than mow the lawn.
And now is a good time to buy a condo. It is one area of the market that has held steady over the past two years for sales and average price. One reason for that stability is because there have been very few new rental properties built since the last real estate recession of 2008. Plus, the majority of Anchorage's apartments were built between 1970 and 1990 and unless you own hundreds of units like one or two investors do, most small investors who own a four-plex struggle to keep up with maintenance and repairs let alone cosmetic renovations. So, for buyers a brand new condo looks very attractive with white cabinets, wood laminate or vinyl plank flooring and painted white trim with lever door handles. Plus it's more energy efficient with lower utility bills. Many older apartment owners require tenants to pay for their own gas and electric so the increasing costs for utilities adds to their average $1,250 per month rent for a two bedroom, one bath flat. Might as well buy something brand new that will hopefully appreciate in value while creating a more attractive and carefree lifestyle.
The average sales price of a condo is $203,113 according to the June MLS statistics. That price is a 3.35% decline from last year's $209,116, making it a good time to invest. So how much does it cost to buy one of these condos? FHA offers a 3% down payment. On a $205,000 condo that's $6, 150. And some builders, looking to get rid of their summer inventory before putting in fall foundations, are offering as much as $8,000 in closing costs.
Today's 30 year fixed mortgage rate is as low as 3.50%, depending on your credit score. That makes a buyer's payment your payment as low as $1,543, including principal, interest, taxes, insurance, and condo dues which will cover some of your utility costs. Hardly any more than what a renter pays for a a 30 year old apartment! And it's fresh and modern!
Entry level condos are a worthwhile investment at today's value, whether as a first time buyer or as a modest investment. Inflation, tariffs are all going to pull up condo prices. Smart buyers buy at the bottom of the market. And you won't have to buy a lawn mower!