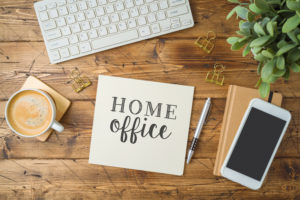 If you're reading this article, you may be sitting in your home office enjoying your first cup of morning coffee or on your bike which is where I usually read the paper. However, whether it's the kitchen table, garage, pantry, master closet, the forgotten guest room or the cubby under the stairs, the home office has become even more a staple 'must have' as a result of COVID-19. The home office is no longer just for the independent contractor or the consultant but almost every professional office in Alaska has and will continue for the time being have employees working from home, at least on a rotation basis.
However, even before COVID-19, home builders have been building ranches and two-story homes with a flex room off the entry which, depending on the homeowner's needs, has been an office, guest room (some even with an adjacent bath entered by a pocket door) children's play room or media room. Another popular option is the full frontage garage with an interior entry where that third bay, previously known as the man cave, is converted to the office. For some, the ideal home office even has its own exterior entrance.
Unfortunately, some of the areas we're now using for home offices in older homes lack technology and have to be retrofitted. If an employer requires an employee to work from home, the question then becomes should the owner request rent, equipment and supplies?
I asked Lottie Michael, CCIM and Senior Vice-President at Berkshire Hathaway HomeServices Alaska Realty's Commercial Division, that question and she believes it is reasonable for the homeowner to demand/ask the employer for rent and to provide the necessary technological support. I also asked her what she believes will be the impact of the home office on the local commercial market. After all, just driving down C Street, there are for lease signs on almost every building. Her response was "In the near future I anticipate professional offices to continue to allow employees to work from home. Home offices require space, equipment and supplies. It's not equitable for the homeowner to absorb those costs. In the longer view, 18-24 months, it's my opinion the office market will be minimally affected by COVID".
But despite COVID-19, homes, with or without being retrofitted, or built with a home office, continue to outsell previously years. Record low inventory under 500 single family homes for sale and historic low interest rates, helped create 78 new sales last week in Anchorage and 26 in Eagle River, more than twice the number than in 2018 and 2019.