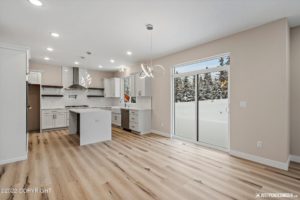 Never in my forty years of real estate have I seen a market quite like this one. The bidding war for homes in excellent condition, regardless of their age, is even more competitive in 2022, than last year's frenzy of multiple offers and escalator clauses. The modest bump up in mortgage interest rates hasn't slowed the market but has put even more buyer pressure to BUY NOW, creating double digit increased prices on purchases made just a year or two before. Savvy buyers understand it is not the purchase price of the home that is the greatest cost but rather the amount of interest paid over a 30 year loan. I do, remember, however, that many buyers in the 1980's reached at their limit or beyond of their borrowing capacity and were thus unable to purchase appliances, window coverings, landscaping or in resale make the necessary repairs that come with an older home.
January's active inventory of 165 single family homes is 55% less than in 2021. Even the condo market inventory has shrunk to 100 active units compared to 261 last January. Low winter inventory is not unusual but the seasonal adjustment we usually experience with new construction starts in April and May will not be enough to lessen the pressure on resale prices.
Anchorage has been dredging at the bottom of new construction residential starts for several years. In 2021, there were only 203 single family permits pulled, an increase of only one permit. Duplex permits were down by 32% units and multi family saw a decrease from 145 units to 51. To say that our Anchorage housing market is in a crisis is not an exaggeration. And no foreseeable change is forthcoming. Anchorage's top builders control over 59% of the new construction market. Those builders include Hultquist Homes, Spinell Homes, Merit Homes, as well as an undefined group of 'owner builders'. Those are private parties who elect to pull their own permit but usually end up assigning part or all of the construction to a general contractor. As a side note, commercial construction is also down by over 10%, from $459 million in 2020 to $406 million in 2021.
With a continuing buyer battle over resale properties, savvy buyers are taking a hard look at the new construction market. As limiting of choices as it is, negotiating for a home to be built is a more quiet, one on one process, without the noise of interfering multiple offers. It is true that new homes will cost approximately $150,000 more than the resale but with escalating prices that gap may get a big smaller. The problem, however, is finding the home site to build on. Both Spinell, Hultquist Homes and Michael Quinn Construction develop their own subdivisions which remain exclusive for their home building. So in some instances, new home buyers may have to decide between the location of their choice and the builder. Resolution Pointe and Bluff, an 100 lot plus community was sold out last year. Sandhill Reserve which is limited to a handful of select builders has some remaining lots. Heatherwood, a popular southwest community, is now controlled by Spinell and WestGate, a popular duplex townhouse community, is sold out. Sonoma Glenn, is currently the only remaining duplex and single family condo community in southwest Anchorage and is exclusive to the Peterson Group and Merit Homes.
The MOA approval process for new subdivisions continues to be strangled by title 21 regulations first advanced over ten years ago. Since then, our land base has diminished, approvals have taken longer and become more costly. There are few options left in south central Alaska other than the Mat-Su Valley where land remains affordable, soils conditions are good and, in some instances, development is welcome.