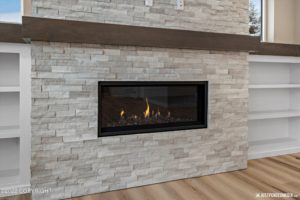 Most buyers are familiar with the 30 year fixed rate mortgage but with higher interest rates the ARM mortgage is becoming the talk of the industry which typically has an initial lower interest rate. An ARM mortgage, according to Madona Rhine-Stack, NMLS #204026, Senior Mortgage Loan Originator with AlaskaUSA Mortgage, License #AK157293 offers a fixed rate interest rate for a set period of time which is usually for 5,10 or 15 years. A simple way to put is the shorter the fixed rate, the lower the rate. However, after the initial introductory period ends, the interest rate for the loan will be adjusted up or down (most likely up due to our still almost historic low mortgage rates) depending upon the existing loan's index plus the loan's set margin. That's 'mortgage banker's' talk so be sure and ask for an explanation. However, according to Rhine-Stack, interest rate caps are in place to set the maximum percentage an interest rate may be charged initially and over the lifetime of the loan. This enables borrowers to understand and prepare for future potential rate and payment increase. In present time, an ARM mortgage allows the buyer to qualify for a higher sales price and sometimes has a benefit to borrowers of lowering a monthly insurance.
That's a lot for a first time homebuyer or even a sophisticated borrower to understand. What you basically need to know is that ARMS are almost always initially less expensive than a fixed rate 30 year mortgage. Right now ARMS can be as low as 4% for five years as quoted Rhine-Stack at Alaska USA Mortgage and are the lowest with 5% down at 3.875% as of March 28, 2022 Rhine-Stack said in an recent interview. What you also need to know is that ARM rates may vary from day to day so you should ask the question about a lock on the rate while shopping for a home or having one built. An ARM allows the buyer to qualify for a higher sales price and sometimes has a benefit to borrowers of lower monthly mortgage insurance. An ARM is probably most beneficial for a buyer who is planning on retirement and a home sale in the near future or for the purchase of a second home which are almost always owned for a shorter period of time than a primary residence.
ARMS are available for single family residences, refinances, condos, second homes and duplexes. Various rates apply based upon an applicant' FICO credit score which can be as low as 660. Maximum loan amounts are $970,000 for a single family home. A duplex has a loan limit of $1,243,050 and a triplex is just over $1,500,000. These are loan limits not purchase price. Sellers are stil receiving multiple offers on single family homes and frequently well over listed price. Frustrated buyers who are losing out on offers well above list price might want to consider an ARM mortgage to increase their purchase power but need to be prepared for an increase in payments in five, ten or fifteen years.
As always, thank you for your many referrals. Please do not hesitate to contact me with any of your real estate questions.