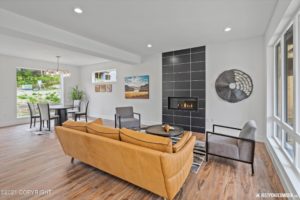 That's normally what happens in the last four months of every year but the pandemic has disrupted everything we can normally expect with multiple offers, escalators clauses, weeks' long waits for preliminary title reports and almost virtual closings. The pandemic has changed everything when it comes to selling homes, including the risky site unseen buyer. In 2019 there was virtually no appreciation in the Anchorage housing market. But since the beginning of 2020, rock bottom mortgage rates and the pandemic rush to buy created a 14% appreciation rate which escalated the 2021 average sale price of an Anchorage single family to a high of $429,626.
But what about when the snow falls and the temperature drops below 32 degrees? According to National Association of Realtor economist, Lawrence Yun, the remainder of 2021 will still be a seller's market but not at the pace it was earlier this year. Rapid appreciation has forced some first time home buyers out of the market. And escalating home builder prices have prevented some sellers from moving up or aging boomers from downsizing. That is a particular problem for downsizers who want a smaller, more energy efficient new home. There has only been 105 single family homes permitted for the first six months of 2021. Duplex permits were only 30 units but multifamily permits are down to 15 units compared to 113 a year ago. Anchorage has only a 1.45 months supply of housing inventory and with the increased prices and limited starts for new homes, inventory is expected to remain low. Lumber prices have been in the headlines for the past few months but let's take a reality check. A lumber package for a 2,400 square foot home is only 10-11% of the total construction cost. It is, however, a good indicator of increased prices for plumbing, mechanical, electrical and interior finishes. That ten percent escalator is not going away, at least not for the remainder of this year and the beginning of spring starts in 2022. But, by then, interest rates will have increased not just for mortgages but for commercial lines of credit for builders. Bottom line is due to lack of resale and new construction inventory, buyers who wait for lower prices, will be very disappointed. However, with a projected increase in interest rates in 2022, the affordability factor should dampen multiple offer situations making it a little easier for buyers who have lost out on multiple offer situations. But, the reality for Anchorage residents is even if our inventory shrinks, where is our population going to live as Anchorage has done little to replace its aging multi-family inventory.
We used to say look to the suburbs for new homes but there are very few opportunities within the Municipality for new home communities. So has our suburbs moved to the 'Valley'? Statistically, it certainly looks that way. The 2020 census reports the Mat-Su Borough population grew by 20%. Anchorage only 1%. Last week, Wasilla/Palmer had 54 pending sales while Anchorage had only 68 in comparison. Nationally, telework is becoming more and more acceptable by employers and we see this with sales activity in Homer and other even Willow which had five pending sales last week. With Alaska's three million lakes and the now ability to work anywhere, Alaska will become more than a tourist destination or an item on a bucket list whether it's for a second home or a permanent residence. So my prediction is we can expect a return to normal appreciation in the 5-6 per cent range but a shortage of inventory will remain a buyer's number one frustration.
Visit me in Sandhill Reserve with 7 new homes under construction on Sunday from 1-4 pm at the corner of Sand Lake Road and W 80th!