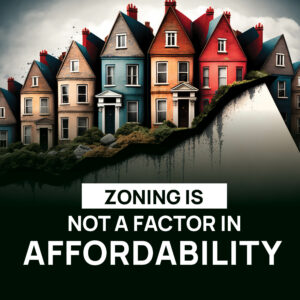 That may come as a surprise to some of you, but zoning is not nearly as important as mortgage interest rates, the highest they currently are at 7.8% since the year 2000. And the natural disasters that flood our online and print news will surely create higher insurance rates for homes whether in Hawaii, California, Florida, or our prone earthquake state of Alaska which records thousands of minor tremors every year. These two factors alone are more important than the ability to add a smattering of additional housing units after hours, days, weeks, and months of discussion. And then let's not forget the labor shortage. Who hasn't been affected by waiting weeks for just a roof repair quote let alone a schedule for the actual repair. The labor shortage is a demographic reality and only going to get worse as our young population diminishes and our boomers exit the work force. And we can't grow trees fast enough to keep lumber prices from skyrocketing. And we all know we get the left-over lumber—knotty and green. Changes in zoning, or the loosening of regulations such as higher lot coverage ratios and the unit lot subdivision, will create some additional units but like the ADU ordinance which effectively made all R1 single family lots turned into R2 will not enough to significantly add more units. The ADU ordinance passed in 2018 but we still have the annual lowest number of units on record for a population of 287,000.
I am told when you present a problem you must also offer a solution. In my opinion, the fastest way to create more affordability for home ownership in Anchorage is to reduce our residential property taxes which are some of the highest in the state and nation. So, let's look at the MLS average price of a home at $471,421. Anchorage's annual property tax on this home is $6,647. Our property tax rate is 1.41%, only slightly less than Fairbanks with a rate of 1.56 of appraised value. It is to be noted that Anchorage and Fairbanks are the only two communities in Alaska that does not have a sales tax. However, if you lived in Palmer your annual property tax on the same valued home be only $2,640. That's because, in part Palmer has a sales tax of 3%. In Wasilla, you would pay $4,808 which has a sales tax of 2.5%. In Kenai, you would pay $4,155 in property taxes. Keep in mind the Mat-Su Borough and the Kenai Borough are the two areas in the state that has a growing population, compared to Anchorage which has a declining population. The difference is $4000 per year in savings which amounts to approximately $333 per month. A home buyer with the same identical credit score would need to make about $1,000 more per month just to live in Anchorage. That says nothing about the larger size of the lot and additional square footage of the home they would receive by living in the Valley or the Kenai Borough. But it's not just the first-time homebuyers are affected by these higher property taxes. Nurses, doctors, airline pilots, north slope workers are all doing the same math.
So where would a reduction in residential property taxes come from to make up the difference in contributing to the MOA operating budget. There were 1.8 million passengers that passed through the Anchorage airport in 2022 and AEDC expects that to increase in 2023-2024. There were 449 travelers cruised to or from South central Alaska ports. Remember the last time you selected a vacation spot? Did you check to see what the sales tax was before making a decision as to where to go on your next vacation. I doubt it. If you want a quick fix for affordable housing, implement at least a seasonal sales tax of 3% in order reduce property taxes for first time homebuyers. Alaska already has several exemptions for property taxes, including disabled veterans, senior citizens, religious entitles, and charitable nonprofits. Although I am not an accountant or an economist, I have been in the residential land development and brokerage for over four decades and it saddens me to see my community lose its future homeowners to the north and south of our neighbors. If Anchorage is to become the vibrant center of cultural, social and commerce it sets its sights on, keeping first time home buyers in our municipality is the first step.
Listen for our radio spot on Cedar Park as you drive to the Alaska State Fair.